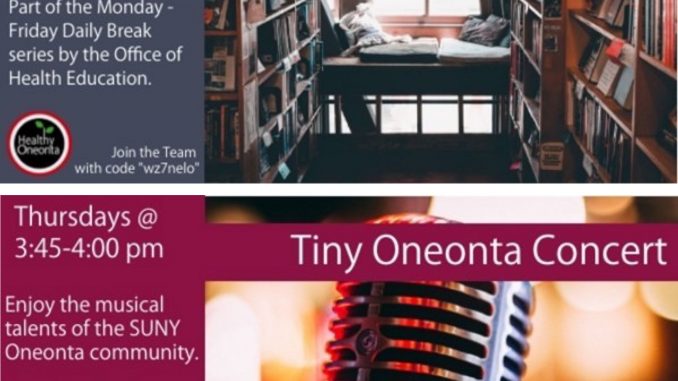 Rachel Dobkin, Staff Writer |
The Office of Health Education Intern team has been holding weekly mini events as part of their Daily Break series. The purpose of the series is to encourage students to take some time for themselves during the week with hopes of promoting student wellness. Two of these events include Word Wednesdays and Tiny Concert Thursdays.
Word Wednesdays occur every Wednesday from 3:00 to 3:15 p.m. and is a space for participants to enjoy the spoken word talents of the SUNY Oneonta community. It celebrates the art of words through poems, stories and drama. During last week's Mar. 24 Word Wednesday, Rebecca Harrington, a health educator on campus, read "Rosie Revere Engineer" by Andera Beaty. This children's book was published in 2013 and promotes important lessons learned through history. "Rosie Revere Engineer" is inspired by Rosie the Riveter and the countless women who entered the workforce and proved their worth during WWII.
This book teaches children, especially young girls, to pursue their passion and accept the failures along the way. At the beginning of the book, the little girl named Rosie is discouraged from her dream to be an engineer, but by the end of the book, she learns that she should not give up on something she loves just because her designs might not always work out at first. Although college students are not the target audience, this lesson is important for all ages, so Harrington felt it was appropriate to be shared on Word Wednesday. College is full of its own challenges and just like Rosie, our students at SUNY Oneonta should learn from their mistakes and make something greater out of them.
Tiny Concert Thursday is another event a part of the Monday-Friday daily break series that shares the musical talent of the SUNY Oneonta community. The event occurs every Thursday from 3:45 to 4:00 p.m. Last Thursday, on Mar. 25, the event was hosted by Gina Bellantoni. Harrington has a team of students that trade-off on hosting these events. Bellantoni showed various clips from Frank Zambrano, senior at SUNY Oneonta, playing the drums. Zambrano covered "Runaway Baby" by Bruno Mars, "Life is a Highway" by Rascal Flatts and "Dear Maria Count Me In" by All Time Low. The audience also saw Zambrano drumming to "Sir Duke" by Stevie Wonder, pre-COVID at the Black Oak Tavern, a local bar on Main Street. Additionally, Bellantoni showed Zambrano's pop-punk version of "1, 2, 3, 4" by The Plain White T's.
Harrington wanted to stress that these spaces are not meant for people to just show off their skills, but to build a community. She said, "we need to create more public spaces to showcase the arts of SUNY Oneonta." These events are "a moment of pause and that's the purpose of art," said Harrington.
Other events in the week-long series include Mindful Monday, Monday at 3:00 to 3:15 p.m, where you can participate in guided breathing exercises and guided meditation for relaxation. You can also attend Take a Minute Tuesday, 3:45 to 4:00 p.m., with guided physical relaxation and stretching and Yappy Hour every Friday at 3:00 p.m., where you can meet SUNY Oneonta employees and their pets.
Each 15-minute session is meant for students to be able to carve out time for themselves to unwind in their busy and stressful schedules. If you would like to contribute your work to Word Wednesday or Tiny Oneonta Concert Thursdays, click on the links provided.