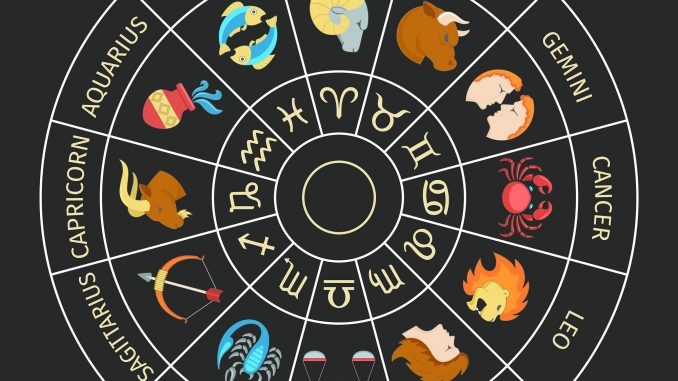 Rachel Dobkin, Staff Writer|
Aries (March 21 – April 19): You will have a successful month if you focus on yourself and what you want. This is a prosperous period in wealth and relationships. However, you will have some difficulty in your career; you must be cautious in your health.

Taurus (April 20 – May 20): Love is looking up for the second half of the month, but family relationships will be rocky. You will have a tough time in your career but traveling will help you feel rejuvenated.

Gemini (May 21 – June 20): Love is in the air, Gemini, so keep your heart open. You are looking at good fortune in your career. Your family life and finances may be rocky during this period.

Cancer (June 21 – July 22): The beginning of the month will be a confusing time, Cancer. Singles should have fun playing the field. Your family life and career will provide some challenges. On the bright side, your health will be in excellent condition, and you will suffer no loss in wealth.

Leo (July 23 – August 22): Things are looking fantastic for you; however, things get rocky towards the end of the month. Love has a powerful presence in your life, Leo; focus on appreciating all the love around you. Family relationships, health and career prospects will be exceptional.

Virgo (August 23 – September 22): This month will yield significant changes in your life. Look out for love after the 21st of the month. You will be in good health, but familial relations may have some strain. Be wise about your finances, Virgo. Don't get ahead of yourself; this is a time of self-reflecting and education.

Libra (September 23 – October 22): This month is gonna be rough! Love will have its ups and down until the end of the month. All you single people out there, use your charm to attract love! Family relationships will flourish, and you will make the workplace your own with promotions and raises. Just watch out for your health as it's subject to change.

Scorpio (October 23 – November 21): Focus on your family this month. Love will be pretty enjoyable, and you will be in perfect health. Your career prospects and wealth will stay the same, although you may have some lucky financial situations!.

Sagittarius (November 22 – December 21): It's looking like a good month! The only thing that poses an obstacle is finances. Besides that, you will flourish in love, family affairs, health, and your career.

Capricorn (December 22 – January 19): The first three weeks might be rocky but hang in there! Love will flourish at the end of the month. Your health looks good, but your family affairs will be problematic. You might be subject to career changes and keep track of your finances. I wouldn't travel as it will not be in your favor.

Aquarius (January 20 – February 18): Love is in the air until the 20th of the month. Singles, watch out because you may get cuffed! Watch out for your health, but besides that, you will have pleasant family affairs and career prospects.

Pisces (February 19 – March 20): Enjoy travel and love! Your family affairs and career are in for a hard time. Try to destress with traveling and you will reap the benefits.