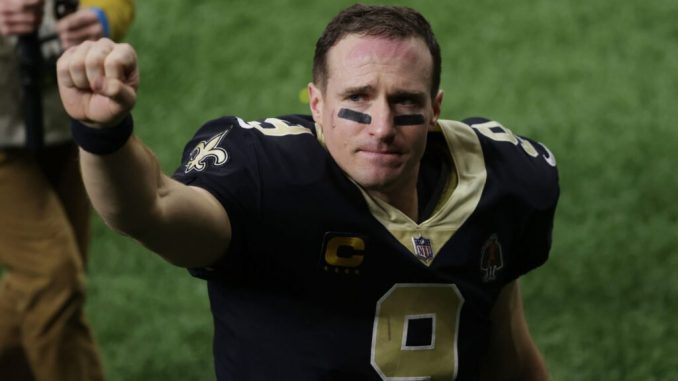 Andrew Dawson, Staff Writer |
Drew Brees says farewell to football after announcing his retirement on Mar. 14. Brees had an incredible 20-year career, playing 15 of those years with the New Orleans Saints. The 13-time Pro-Bowler left his mark not only on the Saints but the entire league. Brees finished his career as the all-time leader in passing yards and second in passing touchdowns. Brees left his legacy on the NFL, winning Super Bowl XLIV (44) MVP and becoming one of the greatest quarterbacks in football history.
"After 20 years as a player in the NFL and 15 years as a Saint, it is time I retire from the game of football," said Brees via a post on his Instagram account. Brees went on to say, "Each day, I poured my heart and soul into being your quarterback. Till the very end. I exhausted myself to give everything I had to the Saints organization, my team, and the great city of New Orleans. We shared some amazing moments together, many of which emblazoned in our hearts and minds and will forever be a part of us. You have molded me, strengthened me, inspired me, and given me a lifetime of memories. My goal for the last 15 years was striving to give you everything you had given to me and more."
Brees later said, "I am only retiring from playing football, I am not retiring from New Orleans. This is not a goodbye, rather a new beginning. Now my real life's work begins!" Brees announced his retirement on the fifteenth anniversary of his signing with the Saints.
Brees ends his historic career as one of the most accomplished signal-callers in NFL history. He has five All-Pro honors, and he holds the all-time records in completions and completion percentage. He is also a two-time Offensive Player of the Year award recipient. Brees gave all his energy to playing the game of football, becoming the Saints franchise quarterback. Many in the NFL community responded to the news with an appreciation for the future Hall of Fame quarterback.
Saints head coach, Sean Payton, said, "I am forever grateful for what he has done for our team, our community, and for me personally."
Tampa Bay Buccaneers quarterback, Tom Brady, congratulated Brees on his retirement via Twitter, "Congrats my friend on an incredible career. Thank you for the inspiration and dedication on and off the field! Look forward to seeing what's next."
"One of the most inspiring people I have ever met, and I'm lucky to call him a friend," said Arizona Cardinals wide receiver, Larry Fitzgerald, via Twitter. Fitzgerald went on to say, "Congratulations on 20 years at the highest level on and off the field. The best is yet to come."
The 42-year-old quarterback's final game was against the Buccaneers in the NFC Divisional Round, losing to long-time competitor Tom Brady. It was not a typical performance
for Brees, throwing three interceptions and having a 38.1 passer rating. Both are career-lows in the postseason for Brees.
It was hardly a fitting end for such a phenomenal career, but Brees left the NFL community with cherished memories that will last a lifetime. Brees' most accomplished season was bringing the Saints to the franchise's first-ever Super Bowl back in 2010, beating Peyton Manning and the Indianapolis Colts. While Brees was often overshadowed by Brady and Manning in his legendary career, he stood tall that night, winning Super Bowl MVP.
One of Brees' most impressive accomplishments was his ability to stay healthy over his 20-year career. Brees didn't miss many games which helped put his team in a position to win every season. He gave the game of football everything he had, leaving a historic legacy behind him. While Saints fans may be upset by his departure, they will forever cherish the success the future Hall of Fame quarterback brought to the city of New Orleans.