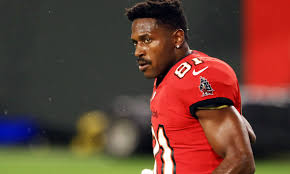 David D'Annibale, Staff Writer |
On Oct. 27, Antonio Brown signed a one-year deal with the Tampa Bay Buccaneers, and now that his eight-game suspension is over and he has a game under his belt, it will be interesting to see how his role continues to shape up in his second game with the team against the Panthers this Sunday . Currently, Tampa's wide receivers include Mike Evans, Chris Godwin and Scotty Miller. Brown will have to adapt quickly, as Tampa's coach Bruce Arians has made it clear he will not tolerate selfish behavior from Brown.

Brown first started his career with the Pittsburgh Steelers after being drafted in the sixth round in 2010. During his nine seasons with the Steelers he scored 75 touchdowns, 845 catches and 11,263 receiving yards. Last season Brown was traded from the Steelers to the Raiders which was when Brown's problematic behavior first started. The first incident he had occurred after a Cryotherapy accident which injured his feet. Not long after that, Brown refused to practice after an issue involving the helmet he was wearing, which did not meet NFL regulations. His behavior led to the Raiders cutting him from the team. Brown eventually signed with the Patriots and played one game against the Dolphins but was later released after being accused of sexual assault.

During his time away from football, Brown's behavior continued to decline until he finally went to seek help. Now, he is staying with Tampa Bay's quarterback Tom Brady at his home and has been seeing motivational guru Tony Robbins. He also participated in a press conference and said all the right things to ensure that he has changed since the last time he played in the NFL . If Brown has his mental health under control it could help make this offense even better and, despite only playing one game with Brady, Brown has already built a great connection. In one game, Brown caught four passes for 56 yards and two touchdowns against the Dolphins in 2019. Buccaneer fans will have to watch to see if signing Brown will be a good addition to the team and help the team make the playoffs this season.