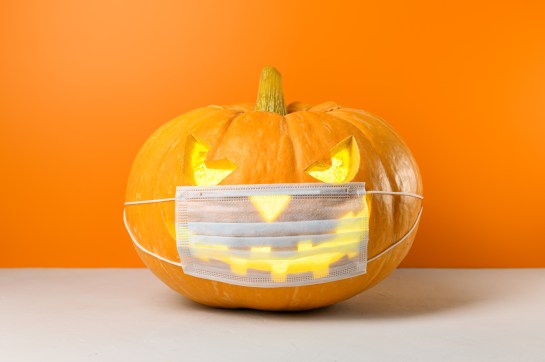 Isabelle Torres, Staff Writer |
Halloween is just around the corner and many people are getting ready for the spooky night. Stores are stocked with Halloween goodies like costumes, decorations and an abundance of sweets. "31 Nights of Halloween" is scheduled on Freeform and a list of horror movies on just about every streaming service will leave no night without a scare. Due to COVID-19, typical celebrations are not possible, especially for the upcoming holiday. Gov. Andrew Cuomo announced that he will not ban door-to-door trick-or-treating in New York state. However, the Center for Disease Control and Prevention (CDC) offers some suggestions to consider while many are making their holiday plans.
In a statement posted on the website, the CDC wrote, "These considerations are meant to supplement- not replace any state, location, territorial or tribal health and safety laws, rules, and regulations with which holiday gatherings must comply." They offer advice to help plan your night, this includes assessing the current COVID-19 levels in your community to either postpone, cancel or limit the number of attendees. A low-risk option for the night is to have all activities held virtually with friends and family or just celebrating with household members. In-person gatherings will pose varying levels of risk depending on the duration, size and location of the event. Outdoors is a better alternative to an indoor party as there is more air for ventilation and space for a six-foot distance between attendees. Shorter parties are best for reducing exposure. All gatherings should include social distancing guidelines, wearing a mask, six-feet distance and frequently washing hands. Hosts should also be aware of the attendee's potential exposures and if they have been traveling to and from "hot spots," consider asking them not to attend the party or suggesting a two-week quarantine before the date of your party.
While the governor is not banning door-to-door trick-or-treating, the CDC does consider it high risk and if you do decide to participate, they encourage you to wrap individual goodies and leave them outside for children to pick up. Masks will be required for trick-or-treaters but the CDC warns that putting on a face covering under a costume mask can make it difficult to breathe and suggest festive-themed masks instead.
Many highly anticipated large events such as Universal Studios' "Halloween Horror Nights" and Disney World's "Mickey's Not-So-Scary Halloween Party" have been cancelled. However, some people have created fun alternatives. Mars Wrigley, who manufactures candies such as M&Ms, Skittles and Snickers, has launched a digital "Treat Town" for children. This year's trick-or-treaters will be able to download the app and create customed avatars and even decorate their own door. There they will be able to go door-to-door and with trusted contacts and receive actual candy afterward with vouchers.
Whether you are still in Oneonta or your hometown, Halloween 2020 will not look like year's past with children in their adorable costumes filling the streets and knocking on your door, crowded costume parties or packed haunted houses. Regardless, there is a way to make this year's Halloween safe and memorable!