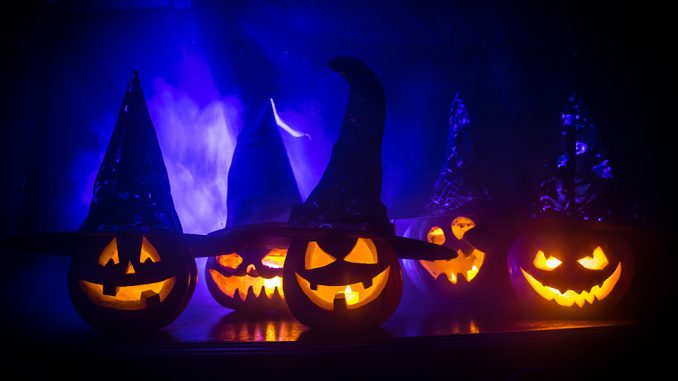 Hannah Lonergan, Staff Writer |
Halloween is going to look different this year, but that doesn't mean it can't feel the same. Pop some fresh popcorn, stock up on your favorite Halloween candies (and some of your least favorites to add to the authenticity of "trick or treating") and sit back to enjoy some of these must-watch Halloween movies and TV shows.
The Classics
Halloween wouldn't be the same without some crucial staples, these are movies and TV shows that should be on your checklist each year October rolls around.
Directed by John Carpenter, the movie follows a young babysitter, Laurie, as she is being stalked by a merciless serial killer on Halloween night. With a, dare I say, killer soundtrack, "Halloween" lets the audience know exactly when to be afraid.
Scare Score: 3/5
"Hocus Pocus" (1993) and "Halloweentown" (1998)
These 90's Halloween classics, though these may seem obvious movies for October, still deserve a place on this list. "Hocus Pocus" surrounds the new kid on the block, Max, taking his little sister, Dani, trick or treating on Halloween. After running into the slight problem of impressing his crush and resurrecting three witches who plan on stealing all the youth from the children of Salem, Max and his new entourage have to save everyone from becoming a witch's treat. The latter of the two, "Halloweentown," is a Disney Channel Original where a young witch discovers her powers and a magical, supernatural world that isn't as safe as it seems. If you have some extra watch time, try a movie marathon with the successors of "Halloweentown": "Halloweentown II: Kalabar's Revenge," "Halloweentown High" and "Return to Halloweentown."
Scare Scores: 0/5
Some Real Scares
"Us" (2019)
No movie has had me leave the theater genuinely nervous to walk into the dark parking lot before, but Jordan Peele successfully strikes all the right cords to reel the audience in. The audience is introduced to the Wilson family, who is stunned by the appearance of their murderous doppelgangers while relaxing on vacation. With a delightfully twisted ending, you won't know exactly who to trust when you are finished watching.
Scare Score: 5/5
"Evil Dead" (2013)
Despite being a remake, "Evil Dead" takes all of the blood and gore from the original "The Evil Dead" (1981) and the sequel "Evil Dead 2" (1987) and doubles it down to make a truly terrifying story of possession. When Mia asks her brother and some friends to join her in a remote cabin to help her through a drug withdrawal, she starts acting too strange for comfort. Never trust ancient books left in the basement of a remote cabin – do I need to say less?
Scare Score: 4.5/5
"Insidious" (2011)
This paranormal film surrounds a family being taunted by demonic spirits attempting to possess their young son who is stuck in a coma. Diving into an alternate, other ghost dimension, a father must put himself at risk to bring his son back. For a full-circle experience, watch "Insidious Chapter 2" to connect all the dots of the first film.
Scare Score: 4.5/5
Ready to Be Streamed on Netflix
"Goosebumps" (1998)
"Goosebumps" is the classic, anthology children's horror TV show series from the late '90s and early 2000s. Based on R.L. Stine's children's book series, the audience is thrown into a world of misfortune and paranormal adventures. "The Haunted Mask – Part 1" and "The Haunted Mask – Part 2" take on Halloween night. Carly Beth might be done wearing her creepy monster mask for the night, but it sure isn't done with her.
Scare Score: 1.5/5
"The Autopsy of Jane Doe" (2016)
The only thing scarier than a father and son performing an autopsy on an unidentified corpse late at night would be the strange injuries and misfortune that occur during the autopsy itself. As the autopsy progresses, so does the story of what happened to the young girl and what might happen to the two coroners themselves.
Scare Score: 4/5
"A Ghost Story" (2017)
This independent film is a gripping tale of a spirit following the life of the house it knew love and pain in. "A Ghost Story" is eerie and full of atmosphere, bringing the audience in on the spirit's journey to find answers for why they linger.
Scare Score: 1/5
No matter what Halloween 2020 looks like this year, you can always count on a good scare to make the month festive.