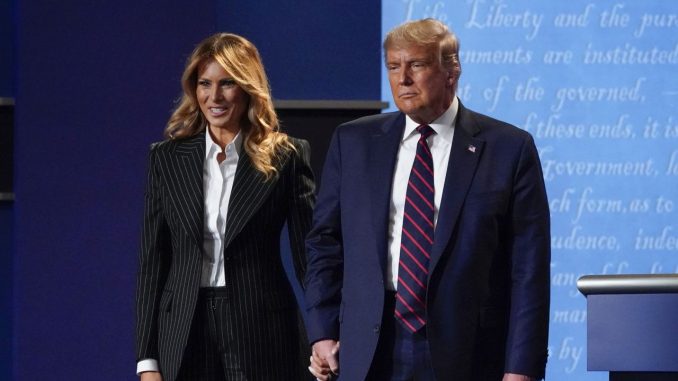 Isabelle Torres, Staff Writer |
President Donald Trump announced Friday, Oct. 2 that he and First Lady Melania Trump tested positive for COVID-19. In a tweet posted that morning he mentions, "Tonight, @FLOTUS and I tested positive for COVID-19. We will begin our quarantine and recovery process immediately. We will get through this TOGETHER!" This came after Hope Hicks, the administration's public relations executive and political advisor, announced she had tested positive for COVID-19 just after the first presidential debate. Hicks and Trump had both flown together on Marine One along with a few other of Trump's inner-circle confidants, no one was seen to be wearing a mask. Trump had announced that he and Melania planned to quarantine after it was confirmed that Hicks was positive for COVID-19.
Trump was hospitalized in Walter Reed Military Medical Center to be treated and quarantined the following day. President Trump is considered to be in the high-risk category and could have serious complications from the virus. Trump is 74 years old and considered overweight for his height. The President received Regeneron's experimental antibody therapy before leaving after just four days of quarantine before returning to the White House. Monday morning, Trump tweeted, "Feeling really good! Don't be afraid of COVID…I feel better than I did 20 years ago."
The Center for Disease Control and Prevention (CDC) states that a 14-day quarantine after last exposure to the virus is required since the incubation period for the virus can last up to two weeks. President Trump has been known to disregard expert's guidance on preventing the spread of COVID-19 and often refers to the disease as the "China Virus." He has been known to disregard the science of the virus, choose to not wear a mask and plans on re-opening the economy despite words of caution from scientists, making many believe these actions contribute to contracting COVID-19.
On Oct. 7, the president sent out a video claiming that his diagnosis was a "blessing in disguise." He went on to talk about his treatment and his plan to make it available for the public. The president did cancel a fundraiser in Washington and a campaign rally in Florida following his positive test. The second presidential debate was rescheduled to be held as a virtual format. Trump, who has denied the severity of the virus, declined to participate.
On Sunday, Oct. 11, the president announced on a phone call with a group of supporters that he tested "totally negative." Navy Cmdr. Dr. Sean Conley has yet to release a statement pertaining to the president's health. The president made his way back down to Florida this past Monday to resume his schedule just nine days after confirming he tested positive.