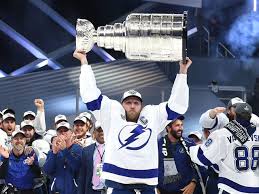 David D'Annibale, Staff Writer |
The NHL season faced many obstacles to play their season but despite potential problems with COVID-19, the season finished with no problems. Throughout the season, daily testing was done on all players resulting in zero positive cases of COVID-19. The road to winning the Stanley Cup was different compared to past seasons as the teams had to abide by new rules and regulations to ensure all players and fans safety, but luckily the season ended with no major issues. One of the teams with the longest journey was the Tampa Bay Thunder who managed to win the Cup against the Dallas Stars in a series that went four games to two.
In the first round of the playoffs, Tampa Bay played the seven seed, Columbus Blue Jackets. The series included two overtime games and every game was close until the end. One of the closest matches was in game five with the Lightning winning the game after Brayton Point scored the go-ahead goal in overtime.
In the second round of the playoffs, Tampa Bay faced the Boston Bruins. After losing game one, Tampa went on to win the next four games to win the series. Like round one, Tampa clinched a series win in overtime. Victor Hedman scored the go-ahead goal with fourteen-ten left in the second overtime period. The goalie for Tampa Bay, Vasilevskiy had 45 saves in the win.
In the third round, the Lightning faced the New York Islanders with the winner going to the finals. Once again, Tampa closed out the series in game six by winning in overtime. Anthony Cirelli scored the game-winner and Vasilevskiy had 26 saves.
During the finals, Tampa was able to overcome dropping game one by winning the next three. Dallas pushed the series to game six after winning game five in overtime. However, their offense was held to zero goals and lost 2-0 in game six. Point and Blake Coleman each scored one goal and Vasilevskiy had 22 saves in the victory. The Lightning completed the series win which put an end to five years of devastating losses in the playoffs. Tampa will look to defend their title next season.
The team celebrated with fans on the Hillsborough River in Florida with a boat parade to celebrate their Stanley Cup victory over Dallas. After the parade, a rally was held at the Buccaneers stadium and allowed 15,000 fans to attend the event. Players on the Lightning entertained fans by giving speeches and Hedman drank from the trophy in the celebration. The city of Tampa Bay might not be done with parades as the Rays advanced to the American League Division Series (ALDS) and the Buccaneers are in the first place.