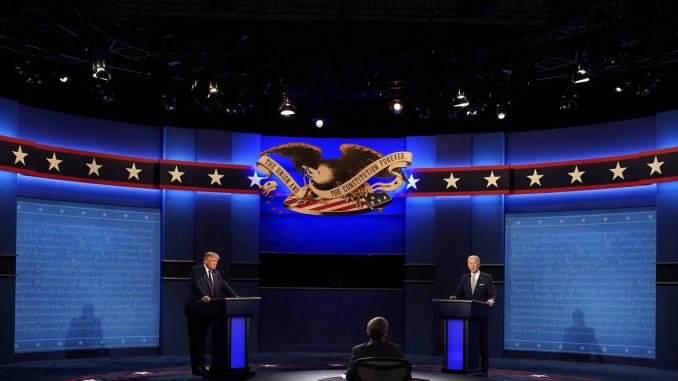 Hannah Lonergan, Staff Writer |
The first of the 2020 presidential debates was hosted by Fox News journalist Chris Wallace. The debate quickly turned to a struggle for uninterrupted talking time with the candidates speaking over each other. Wallace attempted to give each of the candidates an equal two-minute answer periods, but relentless interruptions made that near impossible during the 90-minute debate.
Other note-worthy moments include President Trump avoiding the condemnation of white supremacists and militia groups. Wallace had asked the President if he was willing to tell these groups to stand down and "not add to the violence." Although the President claims he was "willing to do almost anything," he responded with, "Proud Boys stand back and stand by." The Proud Boys are known to be a far-right, neo-fascist and male-only organization. Without explicitly condemning white supremacy, Trump changed the narrative to "doing something about ANTIFA and the left." Biden fired back by explaining that ANTIFA is an idea of anti-fascism and not a group.
Other debate topics were centered around COVID-19 and the discourse of masks. Biden repeated statements made by President Trump as the pandemic first began. President Trump interrupted to claim these were "wrong" claims, and Biden continued to note that he had been saying since July that the government should give out personal protective equipment (PPE) and stimulus money that the House of Representatives has passed.
President Trump stated that we are currently weeks away from a vaccine for the pandemic he blames China for. Trump also claimed that everything he does constantly has "fake news" or "bad press" surrounding it, distorting his meaning.
Biden refuted this by explaining how Trump's CDC director claims we could see another 200,000 deaths from COVID-19 between now and the end of the year but just wearing a mask could prevent half of those numbers. After a large Rose Garden Event at the White House, President Trump and First Lady Melania Trump ended up testing positive for COVID-19.
On the topic of healthcare, Biden did not promise to pack the court or end the filibuster. He rather decided to urge the audience on the importance of going out to vote.
Trump also spent a portion of the debate talking about family matters. He discussed Biden's son, Hunter, working for a Ukrainian gas company and with China for profit during the Obama administration. President Trump proceeded to attack Biden about Hunter's addiction. Biden spoke back, and to the audience: "My son, like a lot of people you know at home, had a drug problem […] I am proud of my son."
Trump also denied that he only paid 750 dollars in federal income taxes the year he won the presidency and during his first year in the White House, instead claiming he paid millions. This comes after the New York Times announced that they had obtained Trump's tax information.
Former New Jersey Gov. Chris Christie, who had helped prep President Trump for the debate, claimed that the debate was not what they had planned for. He noted that the debate was "hotter" than they had prepped him for, indicating that Trump used an aggressive strategy.
After many interruptions and insults during this first debate, the Commission on President Debates said it will consider making changes for the following debates.
There will be two more Presidential debates on Oct. 15 and Oct. 22. These are the projected dates for the final Presidential debates, so long as President Trump recovers from COVID-19. Both of these debates will be 90 minutes long, beginning at 9:00 p.m. EST. The debates will air on major US networks, as well as on YouTube and Hulu.
Make sure you are a registered and informed voter. If you can, go to your polling place to vote but if you are unable you can request an absentee ballot by Oct. 27, return it by mail postmarked by Nov. 3 or returned in person by Nov. 3 by 9:00 p.m. Early voting in New York is between Oct. 24 – Nov. 1.