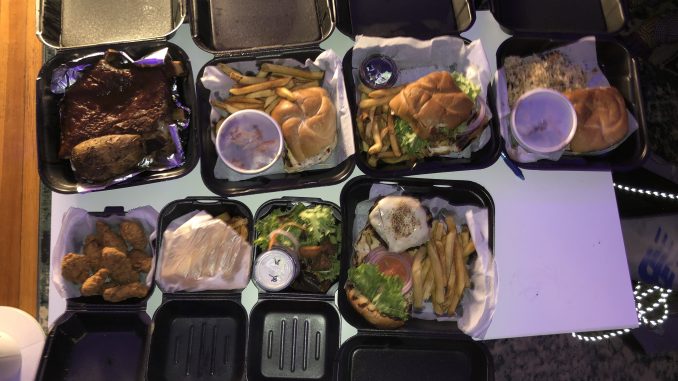 Daniella Fishman, Culture/Business Editor |
Exploring Oneonta's West End is one road I never take, literally! Two weeks ago, I happened to be in the neighborhood and stumbled across the locally enjoyed steakhouse, Sloan's New York Grill. I was immediately intrigued, but I didn't want to have such voluminous food alone, so I invited some friends for an outdoor dine-in barbeque. Unlike my previous Dine-Ins, Sloan's does not take orders via Doordash or UberEats. So, slightly embarrassed, I called in my gargantuan order for pickup. Are you ready for the low-down? I ordered in: one Spicy Black Bean Burger with a side of Fries, a Pulled Pork Sandwich with a side of Rice Pilaf, one Fresh Ground Burger with American Cheese, Bacon, and Fries, some Chicken Bites with Honey Mustard sauce and Fries, and another Pulled Pork Sandwich and Fries. For myself, I got the half-rack of spare ribs with a blue cheese salad on the side, and a baked potato. I also felt a little spontaneous while ordering and decided to sneak in a piece of their Chocolate Overload Cake.
Once the food was in front of everyone, I could tell there was a hint concern over the large portion sizes. After taking a few bites of food, everyone felt eased by the size. We all shared a moment of silence as we devoured the food in front of us. The most popular item of the night had to have been the side of fries, as almost everyone got them. However, everyone agreed that there was a sogginess to them. Aaron commented that the "fries could have been crisper, but it's because of the delivery case," adding that they were "exploding with potatoey-goodness."
The second most popular food item was the pulled pork sandwich. Peri described the pork as having a "smokey tang" to it, noting that the barbeque sauce poured over it added flavor to the toasted bun as well. Eric described the meat as "perfectly cooked" but even though it doesn't melt in your mouth, it is still delicious. Aaron loved his burger, especially happy that the patty was cooked just right. Niamh's spicy black bean burger was "just spicy enough" for her, an enjoyable meal especially paired with the fries. My ribs were a massive slab of meat drenched in their "#10 sauce". The meat slid off the bone with a generous amount of sauce and each bite was savory heaven. The baked potato was generously doused in multiple spices, a refreshing taste from the rib's powerful smokey flavor. Eventually, the "#10 sauce's" dull spice and the half rack's massive size proved too much for me; I couldn't even finish half of the rack! I decided to save the salad for the next day's lunch.
After snapping out of our food comas we all agreed that the meal left us incredibly satisfied. But my sweet-tooth was still craving the Chocolate Overload Cake in the fridge.
After my guests have left, I dove into the chocolate cake. When I opened the styrofoam container, I saw a gigantic chocolate cake slice with chocolate mousse and cherries. I had asked the woman taking my order over the phone if she could recommend a dessert. She immediately recommended the Chocolate Overload Cake, saying it was "absolutely to die for," and after trying it, I can say that she was absolutely right. The chocolate cake was moist and had a bittersweet taste. The chocolate mousse filling was just the creamy sweetness the cake needed. I especially enjoyed the cake cold; it had a bit of a hardened texture but the cool mousse offered a great pairing. The literal cherry on top was the inclusion of candied cherries! The cherry syrup over the top of the chocolate cake and mousse was an out-of-body taste experience. I thoroughly enjoyed every bite of this cake, and to be honest, I haven't stopped thinking about it since I ate it! If I were to recommend one thing from Sloan's, it would be their fantastic Chocolate Overload Cake.
Sloan's New York Grill was a very memorable experience. Not only was my meal everything I was hoping for, but after seeing all of my friend's meals, I am very eager to go back and try everything myself! Sloan's has a lunch and dinner menu, each with its own unique makeup. You can find hier menus and hours on their website, http://sloansnygrill.com/.
Have a suggestion for Dine-In with Dani, email The State Times at [email protected] let us know.