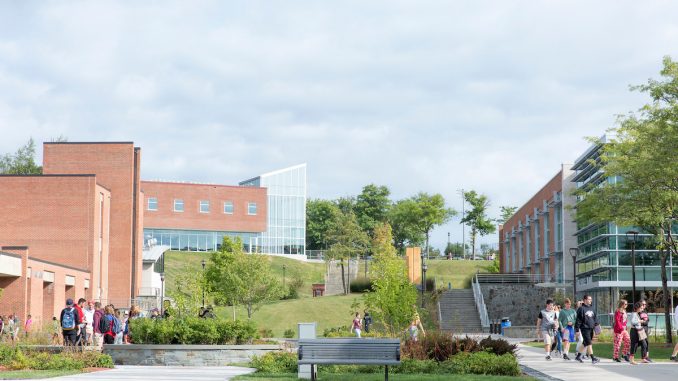 Hannah Lonergan, Staff Writer |
Last year, SUNY Oneonta's New Student Services (NSS) staff set up The Lounge in the basement of Hunt Union with the purpose of providing a place for students to relax from noon until 6 P.M. every weekday. Despite this semester's different structure, the NSS staff still wanted to keep The Lounge up digitally via Microsoft Teams to try to engage with first-year students.
The Lounge is run by Oneonta's student Dragon Guides to help new students make friends during a time where it might be difficult to do so. Since there are no more in-person classes and most students have left campus, The Lounge is a great resource for students to play games, chat with others and do some icebreakers.
Another useful resource on our digital campus is the Gender and Sexuality Resource Center (GSRC). The GSRC is a safe space for all, providing a comfortable place for marginalized communities. They put on events such as The Art of Relaxation Series and GSRC Dialogue sessions. They are a useful space for students to find helpful resources for gender and sexuality issues. The GSRC also has office hours where students can pop in and chat (video, audio or text) with a staff member about concerns or issues they have.
Both the Lounge and GSRC acknowledge the virtual obstacles of having students join their online hours. Eric Warren, a staff member from the GSRC, says they've had a few students stop by and have had a few events so far but it's difficult to get visitors when people don't know how to access them as a resource.
Liana Millan, a Dragon Guide, also notes that she hasn't had any students show up to her lounge hours yet. She agrees about the common theme of accessibility, "It's been hard to get the word out about the lounge, and a lot of people don't feel comfortable talking to strangers so that makes it harder."
On Friday, Sept. 25 I decided to drop by The Lounge and see what was going on. I entered the Microsoft Team's chat, with my camera off and audio muted. Using the text chat, I was greeted by a few Dragon Guides who chatted with me about classes for a while, and then I logged off. Like other students, I was nervous to join a random call with strangers I don't know. But the people on the other end are students who care about the well-being of others and made me feel welcome even if I was there only for a short period of time.
The Dragon Guides at the Lounge and the staff members at the GSRC are both excited to get students to come into their office hours.
If you're interested in resources from the GSRC, you can check out their Campus Connection page. Their Zoom meetings are held Monday through Friday from 1 pm-9 pm. Students don't have to worry about what to do or what to say when they talk to a staff member, the mode of communication is completely up to the comfort of the student and is as confidential as possible. Students can either talk to student staff members or the faculty advisor, Emily Phelps. Students can also check out the GSRC's Instagram account, @oneontagsrc.
Similarly, students who want to chat with some of the New Student Services staff members can hang out in the Lounge. Meetings for the Lounge are held Monday through Friday from 12 pm- 4 pm The Dragon Guides have fun games to play with new students and are a great resource to have throughout the semester.