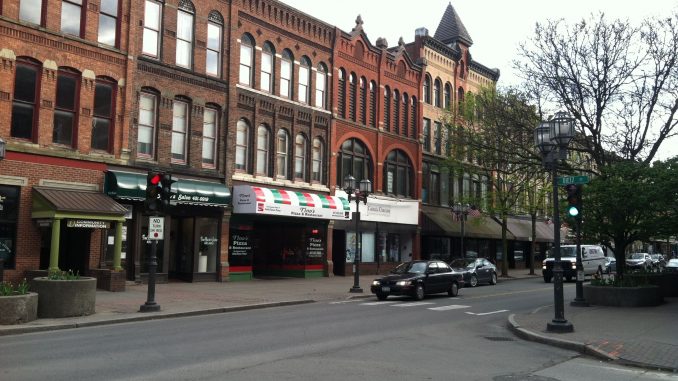 Hannah Lonergan, Staff Writer |
Local businesses in Oneonta have been through a whirlwind this past year due to COVID-19. A task force to help local businesses, "Survive, then Thrive," began to help alleviate the financial burden that was imposed on many businesses throughout the state when they were forced to close or reduce capacity earlier this year. The original purpose of this task force was to help find resources for businesses and immediate support, outside of the federal CARES Act.
In addition, the task force implemented a marketing strategy to promote the city to those who want to leave populated areas. Back in 2017, Oneonta was chosen among nine other cities in the region to receive 10 million dollars in state funding, according to The New York Times. This was a part of a program to revitalize the downtown areas of upstate cities to make them more appealing to potential employees and young people.
Being no stranger to financial assistance. Oneonta had also received an additional 4.5 million dollars from the state to put towards a new food and beverage innovation center prior to 2017.
Fast-forwarding to the summer, after a majority of businesses were either forced to shut down or reduce operation, the previously mentioned task force had been approved for 153,000 dollars in funding by the Oneonta Common Council. The funding had been split between online sales promotions, the reopening of businesses and the recovery of businesses. This funding, according to Channel 2 News had come from "repurposed community development grant funds and possible FEMA aid."
Now, with Oneonta becoming a hotspot for COVID-19 cases, many businesses have been reducing operations again. With limited capacity and many students being sent home, financial stress has been increased. The "Survive, then Thrive" task force has recently given grants of up to 3,000 dollars to 35 local small businesses to purchase more personal protection equipment and cover expenses related to COVID-19. The full amount of this round of funding came out to 105,000 dollars.
Businesses included in the new grants included Sal's Pizzeria, Plaza Diner, Simply Thai and Capresso.
A handful of businesses also recently received platters of customized cookies from the "Cookies for the Community" campaign. Started by a parent of an Oneonta student, the group has raised about 4,000 dollars and will donate the leftover 3,500 dollars from cookie supplies to assist local Oneonta businesses. Selling t-shirts and masks with the catchy, "Coroneonta" phrase on them, they donated 20 percent of proceeds to the city for the businesses.
If you're still residing in Oneonta, remember to support our local businesses by getting take-out every so often. Getting takeout and bringing it home or eating it at the park is a great way to support our local businesses, and lets you enjoy some delicious food safely.
A full list of businesses that received grants earlier this month can be found at https://www.allotsego.com/35-oneonta-businesses-receive-105k-in-survive-thrive-grants/.