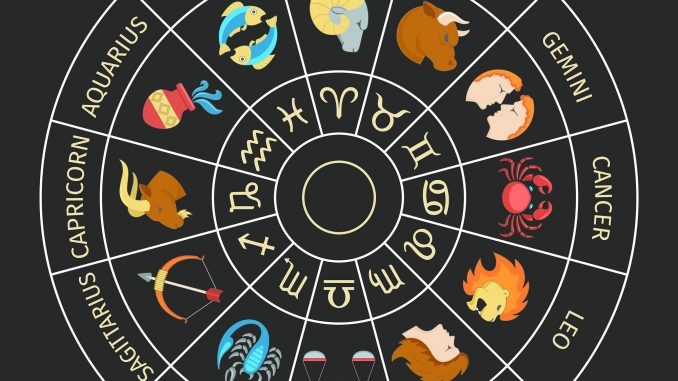 Isabelle Torres, Staff Writer |
Aries (March 21-April 19): You may be feeling clouded with fatigue this week. It is time to get back in the game. Make time for work but also make time for some fun. Try adjusting your schedule a bit; wake up earlier and get going!
Taurus (April 20-May 20): Pick up a book and read; focus on finding and doing things that bring you tranquility. Entertain yourself whether that be going out with friends or doing something at home. Learn something new this week! 
Gemini (May 21-June 20): Walk into this week motivated and confident. While this may seem easier said than done, try to continue the week with this mindset: make sure to communicate very clearly with others. Do what works best for you and don't be intimidated by others. 
Cancer (June 21-July 22): Don't let your emotions overcome you this week. Stay true to yourself but try not to overanalyze everything. Have fun and enjoy yourself but don't become impulsive this week, it may lead you to some trouble. 
Leo (July 23-August 22): Take this week to learn about yourself. You may carry yourself as poised and confident but challenge yourself to work on the areas you are not so confident in. Set some new goals and let life take you to the finish line!
Virgo (August 23-September 22): Take a chance this week, a new adventure may come your way and while you may feel hesitant, you should consider it. You never know when an opportunity may appear. Unlike your typical self this week, you should try being more impulsive. Straying from your norm will give you something to celebrate this weekend!
Libra (September 23-October 22): Put yourself out there dear Libra! This may seem scary and out of your element, but it will lead to new opportunities that you never saw coming. Take this opportunity and run with it. See where the world takes you, don't take anything for granted Libra. 
Scorpio (October 23-November 21): Keep that upbeat and positive attitude going! It is okay when you aren't feeling so social this week, take some alone time to recoup. Your stamina will help you get everything you need to get done this week! Don't let your stubbornness get in the way of finishing your projects, keep that temper at bay dear Scorpio. 
Sagittarius (November 22-December 21): Be brave this week and explore the things around you, may it be work, relationships, or even the environment around you. You have a lot on your schedule as you enjoy staying busy but don't forget to take some time to nourish your body and mind. You are a free spirit so don't get too caught up in your day-to-day schedule.
Capricorn (December 22-January 19): You are often a follower, but it is time to get out of your comfort zone. Take a risk and do something you normally do but in a different way. Your wild side attracts others as it is not shown very often. This could lead to a new relationship: romantic, friendly or professional. 
Aquarius (January 20-February 18): Your schedule may seem full and you are lacking the motivation needed to get everything done. Breathe, dear Aquarius! Don't get frustrated, you will find your fire again. Take that small trip that you have been thinking of doing. Find the right balance for yourself. Pisces (February 19-March 20): You have been searching for validation for a while, you will finally receive it this week. You are a modest being and celebrating yourself seems uncomfortable for you, but you deserve a little "me" time. Your hard work has finally paid off so enjoy some time for yourself.