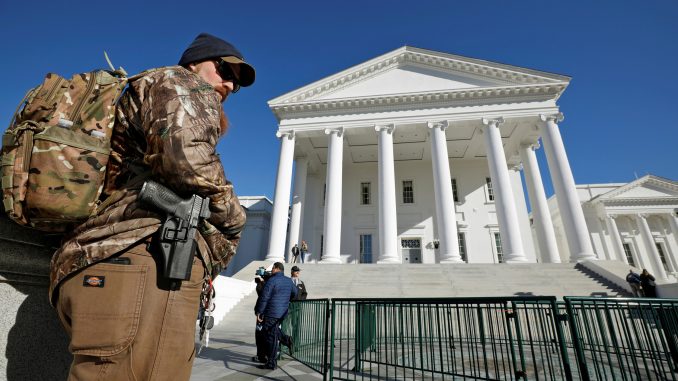 Kat DeNinis, Staff Writer |
Virginia has become the main battleground when it comes to the raging debate over gun control and mass shootings, a topic that dominated last year's legislature elections. Virginia Governor Ralph Northam has been pushing towards banning the sale of assault weapons in the state. Northam proposed a bill that intended to prohibit the sale of certain semi-automatic firearms, such as AR-15-style rifles. In addition, the possession of high-capacity magazines that hold more than 12 rounds would also be banned. Northam has been focusing on this bill while also campaigning for other gun-control measures.

Northam and the bill have been met with immense opposition. This bill failed to gain the support that Northam had wished for when it came to a vote. Even fellow Democrats hesitated to accept the proposal. Senators voted to push the bill to the side and ask the Virginia Crime Commission to study it to present a better solution towards the issue of assault weapons. When the bill was up for a vote, the committee room was filled with gun owners who protested the content of the bill; all of the protestors were soon cleared out by Capitol Police.

Virginia has experienced two horrific and monumental mass shootings that forever changed the way that some people in the state feel about semi-automatic weapons, high-capacity magazines and suppressors. In 2007, Seung-Hui Cho, who was an undergraduate student at Virginia Tech, shot and killed 32 people and wounded 17 others using two semi-automatic pistols. When police stormed the hall that Cho was in, he committed suicide. This became the deadliest school shooting in the history of the United States at the time. In 2019, DeWayne Craddock, a disgruntled employee, gunned down 12 people, 11 of them his colleagues, at Virginia Beach. Craddock used two .45-caliber pistols, extended ammunition magazines and gun suppressors. Both of these horrific acts were done using weapons and accessories that would have been banned if Northam's bill went through.

Government officials in multiple states are beginning to discuss possible solutions that could make both anti-gun activists and gun owners content. Although Northam's proposal wasn't passed, it still built the momentum to continue conversations about gun control in the state of Virginia, and possibly in other states. With the upcoming 2020 presidential election, the gun debate will be one of the most discussed topics among the candidates, and hopefully progress will be made to prevent another mass shooting.