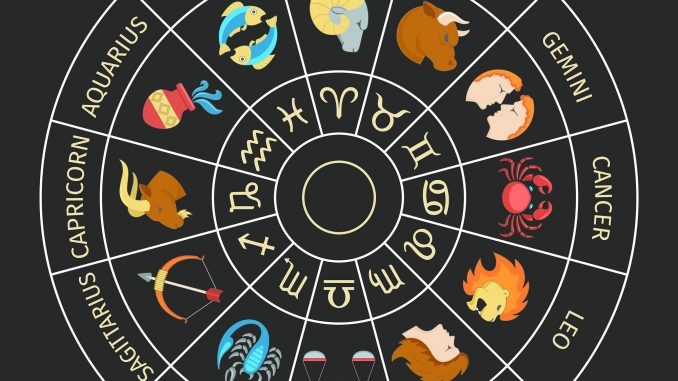 Aries- Don't be afraid to tap into your wild side this week, Aries. Go out for a run on a trail or play a sports game with your friends. Channel your energy into something athletic, and you'll feel so much better. 
Taurus- Let go of the reins this week, Taurus. You may have gone too far with your confidence lately and gotten yourself into trouble. Don't be afraid to let things go and listen to your peers.
Gemini- Feeling goofy this week, Gemini? Shout it out! Confidently tell your jokes and stories and you may be surprised at all the positive responses you get.
Cancer- Relax yourself this week, Cancer. With the upcoming break don't feel pressured to get everything done at once. Pace yourself and remember to breathe. You're doing great.
Leo- You're right in thinking you're right, Leo. Crush your midterms with confidence; you know the right answer. Commit yourself to your studies, and you'll be proud of the result.
Virgo- Don't be hesitant to work on yourself this week, Virgo. Start that new exercise routine, and try out healthier meals. Let your healthiness fight your stress and live your best life.
Libra- Flourish in your season, Libra. Try something new with your partner or your friends to help blow off some steam. Refill your social meter after some stressful weeks and thrive with your companions.
Scorpio- Let go of that grudge, Scorpio. Holding on to those negative feelings is affecting your life more than it should. Be confident in yourself, and don't be afraid to appreciate your own company.
Sagittarius- You may have been feeling impatient this week, Sagittarius. Don't rush into the weekend the way you want to. Your weekend plans are a refresher you've been craving, but don't overlook your work.
Capricorn- Let go of your doubts, Capricorn. That new person in your life may just be the one you've been looking for. Take a leap of faith and immerse yourself in some new feelings. 
Aquarius- It's okay to be emotional this week, Aquarius. Don't feel the need to defend your emotions either. Feel your feelings without shame, and you'll feel infinitely better. 
Pisces- Immerse yourself in your music, Pisces. Don't underestimate the healing properties of letting yourself go in a good song. Or, let your creativity flow and create something of your own. It will be freeing to express yourself through music.