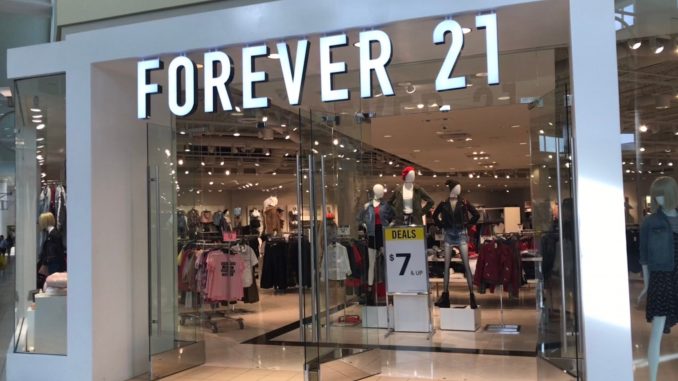 Erin Spicer, Staff Writer
The popular clothing chain Forever 21 announced plans to petition for bankruptcy this month. The company will be closing all stores that are underperforming or have been labeled unprofitable. Forever 21 credits their impending plea for bankruptcy to the fast-changing consumer shopping trends, and hopes to use it as an opportunity to reorganize and restructure the company in an attempt to get a fresh start. The store that made its name for their low prices and wide variety of clothing trends has fallen far behind other retail stores such as Target and T.J. Maxx. There is no specific reason why Forever 21 was being outperformed by other retail stores, but this effectively raised the cost of keeping the stores running.
Bankruptcy is not only problematic for companies such as Forever 21, but also for the communities that depend on the money the stores provide. The closing of Forever 21 stores means that malls and other property owners will no longer have the monthly income provided by the stores' lease agreements. This will be especially detrimental to low-income communities that depend on retail stores. There are approximately seven stores closing in the Valley region of California. One company in particular that will suffer serious consequences if Forever 21's petition for bankruptcy is approved is Simon Property Group LP, a real estate agency that leases space to several Forever 21 stores, and considers the franchise its sixth-largest tenant.
Barneys in New York City, plus-size retailer the Avenue, and a jewelry retailer Charming Charlie also announced they would file for bankruptcy. Retail and commerce researchers such as Roger Beahm attribute the failure of these companies to three things: providing a unique brand, evolving, and forward thinking. Another obstacle in the way of retail stores is the competition of online shopping. Companies such as Amazon have been dominating the market and are projected to run most retail stores out of business by 2026. In order for retail companies such as Forever 21 to survive, they need to find a way to compete with the convenience and low-prices of online shopping.
While clothing retail stores are in danger of becoming obsolete in the next 30 years, retail companies such as Ulta Beauty, Dollar Tree, and 7-Eleven are opening more and more locations across the country. The success of these retailers can be attributed to the fact that they managed their debt and did not expand too quickly. In order to continue being successful, retail stores will need to keep evolving with consumer trends if they hope to compete with Amazon.
Retail shopping will likely never disappear; what may change is the way that consumers buy and receive their products. While some consumers may never tire of the novelty of physically walking into a store and carrying their purchases out, the retail market may not be able to sustain physical stores. The good news about Forever 21's petition for bankruptcy, however, is the impending liquidation sales at the closing stores available to shoppers.