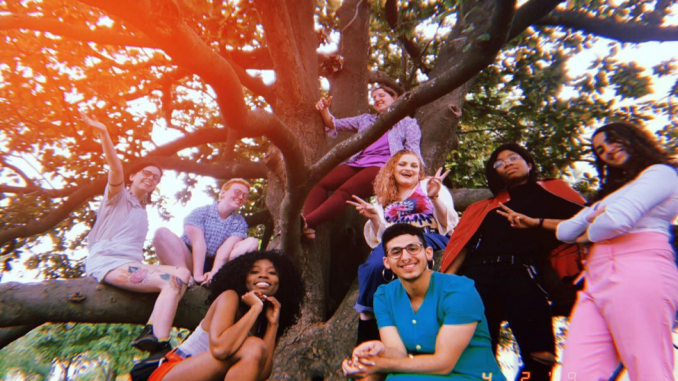 Katie Hebert, Staff Writer |
This past week, I had the honor of representing SUNY Oneonta at the 2019 College Unions Poetry Slam Invitational (CUPSI), hosted at the University of Houston. This is an international collegiate poetry slam where schools form poetry slam teams can showcase their work on an international scale in a competitive form.
According to CUPSI's history, "The first CUPSI tournament was organized in 2001 by Robb Thibault through the Association of College Unions International (ACUI). It was held at University of Michigan-Ann Arbor. Seven teams competed in the first tournament." SUNY Oneonta's own Robb Thibault is currently the Poetry Slam Association advisor, as well as the coordinator for the Big O' Poetry Slam events. SUNY Oneonta's attendance at CUPSI has been one of the longest running, and being able to attend is something we as a team are so grateful for.
The 2019 CUPSI Oneonta State team comprised of Gabe Membreno, Malack Al-Haraizeh, Katie Hebert, Casey Williams, Phylesia Lewis, and Reed Guy, who were the six highest ranking poets at SUNY Oneonta's Grand Slam back in November, which took the top two poets from each of Big O' Poetry Slam's preliminary slams, as well as a few wild cards, to compete for the spots on the team. We were also joined by two fabulous coaches: Justine Bishop and Jonah Moczara, both who are SUNY Oneonta alum, as well as slam extraordinaires.
The CUPSI format takes all the registered institutions and compiles a "bout draw." A "bout" is comprised of four rounds, so each team is able to send up to four poems within one bout. The first two days of the tournament are preliminary bouts, in which each institution is provided two preliminary bouts, and the rankings from these bouts (both placement and score differentials) from these determine who moves on to the semi-finals. The scores in semi-finals determine who makes it to finals, following a showcase of some of the best group poems and poets of those who didn't make it to finals.
The first night, SUNY Oneonta competed against New York University, Queens University-Ontario, as well as the University of Texas-San Antonio. SUNY Oneonta placed second, following NYU with a 2.2 point difference. The next night, SUNY Oneonta competed against Ryerson University, Eastern Michigan University, and Michigan State University, placing third after Michigan State University and Ryerson University, with a point behind each of them. Out of 58 competing institutions, SUNY Oneonta placed twenty-ninth!
Al-Haraizeh, a sophomore studying English Adolescent Education who has competed on the team for two years now, shares that "CUPSI is an environment like no other; it was intense and emotional, but fulfilling and positive. It was love and competition, and it was acceptance. It was a judgement free environment, and those are hard to come by. The trip is definitely a highlight of my SUNY Oneonta experience. I feel so lucky to have this opportunity, and I can't wait for next year."
The 2019 SUNY Oneonta team competed at regional slams before entering CUPSI, including SUNY New Paltz's anual Wade-Lewis regional slam, in which SUNY Oneonta came in first, and Montclair State University's Speaking through Silence regional slam, where SUNY Oneonta came in third. At CUPSI, we were able to witness these schools and support each other in our bouts. Montclair State University won Spirit of the Slam, while the final rankings included Pennsylvania State University taking home the champion title, Barnard College in second place, Stanford in third place, and University of Houston in fourth place.
Wednesday, April 17 was PSA's last slam of the season, which was the Annual "Glitterbox" slam, in which people can bring funny things such as memes, recipes, receipts, and song lyrics, put in to a box, which participants will pull from and slam on the spot. The 2019 CUPSI team is the feature of this slam, showcasing some of the 20 poems that they prepared for this year's competition.
If you are interested in joining the Poetry Slam Association, or interested in competing on the 2020 team, follow @Oneontaslam and @BOPS_Oneonta on Instagram and Twitter. The Fall 2019 Preliminary Slam schedule will be released over the summer, detailing dates and times of the slams, along with featured poets for each date.