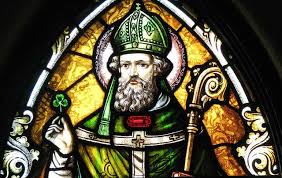 Jessica Kennedy, Contributing Writer|
Not many know the history behind the holiday that is celebrated every year on March 17. This Irish-American holiday was created in honor of Ireland's patron saint, Patrick. St. Patrick lived from the years 387 A.D. to 461 A.D. and was best known for converting the Irish to Christianity, driving snakes out of Ireland, his memoir, "The Confession," and the shamrock. Since his death on March 17, 461 A.D., the Irish celebrated their saint on the anniversary of his death with special religious services and feasts.
In the Roman Catholic history of St. Patrick, he was kidnapped from his home in Roman Britain and forced into slavery in Ireland at the age of 14. His love for God got him through his six-year captivity, also inspiring him to write his memoir, "The Confession," which was about his faith during his enslavement. St. Patrick returned to Ireland at the age of 46 and traveled the country for forty years.
The myth that St. Patrick drove all the snakes out of Ireland is believed to be a metaphor for him driving out the Pagans and Druids who formerly dominated Ireland and enslaved him as a child. It is believed that he drove out the 'snakes' by converting Ireland to Christianity. A method of his conversion was to use the shamrock as a symbol of the Holy Trinity. Each of the clover's leaves symbolized the Father, Son, and Holy Spirit. This symbol was used to celebrate St. Patrick later on, with people wearing shamrocks on their lapels, turning into the common modern tradition of wearing green on St. Patrick's Day.
Many years after his passing, St. Patrick was celebrated every year beginning the nineteenth century in Irish households with feasts on the anniversary of his death. However, the first large parade to celebrate
Ireland's patron saint took place in 1762 in New York City when Irish soldiers walked through the city to a tavern while playing Irish music.
The parades became even larger during the nineteenth century when many people from Ireland emigrated to the U.S. to avoid the Great Potato Famine and were met with disdain by Americans. St. Patrick's Day was a way for Irish-Americans to show their pride for their homeland and gain strength in numbers to secure respect and political standing from the rest of the United States.
Now, St. Patrick's Day is a large holiday celebrated by millions of people in Ireland, Canada, Australia, and The United States. People show their Irish pride by attending religious services, wearing green, eating the traditional Irish dish of corned beef and cabbage, attending parades in large cities and small hometowns, and even dyeing major rivers and beverages green in honor of the Ireland's patron saint.