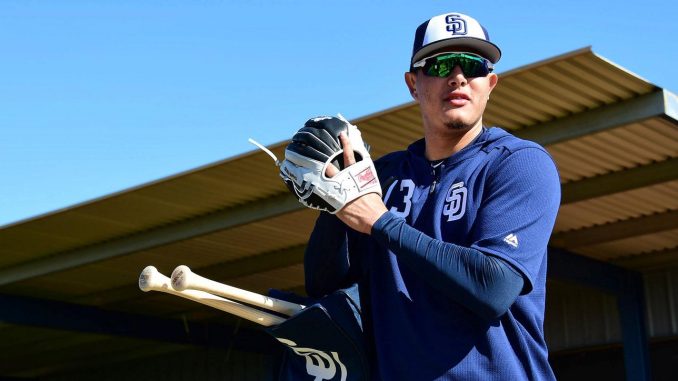 Tara O'Leary, Staff Writer|
Manny Machado is officially no longer a free agent. After meeting with teams around the MLB, the former Dodger has signed a record setting deal with the San Diego Padres just in time for Spring Training.
After a two-hour lunch with Padres Chairman Ron Fowler and General Partner Peter Seidler, the team reached an agreement with the star free agent. Machado was offered a 10-year deal worth $300 million, awarding the 26-year-old with the largest free agent contract in American sports history. Machado will receive a $20 million signing bonus, along with $10 million this season and $30 million in each season after. With this new deal, he can pick six teams annually that he can't be traded to, and it includes an opt-out after his fifth season. Machado will also get a hotel suite on team road trips and can purchase premium tickets at Petco Park. General Manager A.J. Preller called this a "landmark signing" for San Diego, as the team is looking to build a successful future.
A large part of Machado's negotiation process had to do with the former third baseman wanting to play shortstop for his new team. Most of his time on the field has been spent at third, but he also has experience at his favored position. During his free agency, the four-time All-Star was looking for a team that would make him their shortstop. However, his desire to win outweighed his desire to play a different position, as Manny Machado will now be joining the Padres as their third baseman. "Shortstop was a big key, but at the end of the day it's always a matter of what team, what position, how would it be," he said. "I've played third base my entire life, moved over obviously because I've always wanted to, the spot was open, but coming here to come play third base, I saw a great opportunity to help out other guys, help out young guys." One of the 'young guys' that Machado will be helping is Padres prospect Fernando Tatis Jr. By playing third, Machado leaves the shortstop position open for Tatis, who has been in the Padres organization since 2016 as one of their top minor league prospects.
Machado is expected to have a huge impact on his new team. The 26-year-old's long term deal should keep him with San Diego throughout his prime. Some analysts are predicting that Machado could be one of the greatest players in Padres history if he spends the full ten years there. Former Padre Nate Colbert hit 163 home runs during his time with San Diego, making him the team's leader in that category. In order to become the new home run king of San Diego, Machado simply has to average 16.3 per year, which is incredibly feasible as the third baseman has averaged 25 home runs in his first seven MLB seasons. Machado is coming off an impressive season, hitting .297 and setting career bests with 107 RBIs and 37 homers.
With this big signing the Padres are looking to their future. Over the past two years San Diego has spent $474 million in free agency, leading the major league. In their previous 25 seasons, they've only spent a combined total of $309 million. The San Diego front office is making it clear to their fans that they want to build a team worthy of a championship. "This momentous agreement speaks volumes to the direction of our organization, as well as our commitment to bringing a World Series championship to the Friar Faithful and the city of San Diego," said Fowler and Seidler's joint statement. "His combination of youth, experience, and ability makes him a perfect fit for the Padres both now and in the future as we work to build a perennial contender at the major league level," stated Preller.
This deal turns all eyes over to Bryce Harper, who is still waiting to sign with a team(As of Feb. 27 when this article was printed). The two stars were the talk of free agency, and Machado's long term deal now puts Harper in the driver's seat. The Padres 10 year offer sets the tone for the market as the former National is still scouting out a new deal. All the teams that missed out on Machado will now be more desperate for a star-caliber signing as they go after Bryce Harper.