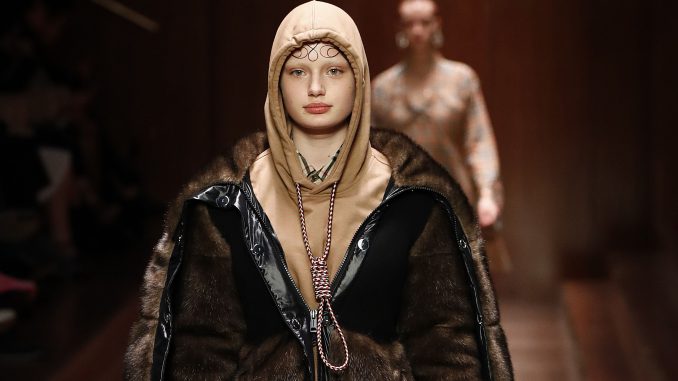 Casey McShea, Staff Writer |
Multiple high-end fashion brands have come under fire lately after presenting some products that have been criticized as racist, insensitive, and discriminatory. Among the offenders are Burberry, Katy Perry, and Gucci.
Burberry was the most recent to receive backlash when it debuted a hoodie with cords resembling a noose around the neck during its show at London Fashion Week on Feb. 17. Critics said the product was insensitive to the issue of suicide and the history of racist lynchings. The hoodie was even criticized by model Liz Kennedy, who was featured in the show but not the one to wear the hoodie. She wrote about it on her Instagram, saying, "Suicide is not fashion. It is not glamorous not edgy and since this show is dedicated to the youth expressing their voice, here I go."
Kennedy continued, "Riccardo Tisci and everyone at Burberry it is beyond me how you could let a look resembling a noose hanging from the neck out on the runway. How could anyone overlook this and think it would be okay to do this especially in a line dedicated to young girls and youth. The impressionable youth. Not to mention the rising suicide rates worldwide. Let's not forget about the horrifying history of lynching either. There are hundreds of ways to tie a rope and they chose to tie it like a noose completely ignoring the fact that it was hanging around a neck. A massive brand like Burberry who is typically considered commercial and classy should not have overlooked such an obvious resemblance. […] I am ashamed to have been a part of the show."
Following the backlash, Burberry released an apology and said it had removed the item from its collection. "We are deeply sorry for the distress caused by one of the products featured in our A/W 2019 runway collection," Burberry CEO Marco Gobbetti said in a statement. "Though the design was inspired by the marine theme that ran through the collection, it was insensitive and we made a mistake."
Burberry was not the only brand to take heat. Katy Perry released her shoe line partnership with Global Brands Group in 2017, two of which are drawing comparisons to blackface, the racist face-painting practice that started as a way for white performers to mock enslaved Africans in minstrel shows using black paint and exaggerated facial features. The pairs of shoes, the Ora Face Block Heel and Rue Face Slip-On Loafers, both feature black designs with jutting eyes, noses, and large red lips.
According to a joint statement later made by Perry and Global Brands Group, the shoes were "envisioned as a nod to modern art and surrealism." The statement also said, "I was saddened when it was brought to my attention that it was being compared to painful images reminiscent of blackface. Our intention was never to inflict any pain."
The shoes were later removed from the Katy Perry Collections website, as well as the websites of major retailers such as Dillard's and Walmart.
While Perry's shoes were facing criticism, many sarcastically commented that the shoes would go well with a sweater produced by Gucci that also resembled blackface. When the sweater's turtleneck is pulled up over the bottom half of the face, it reveals a cutout with oversized red lips around the mouth.
People were quick to express their outrage, taking to social media platforms to express their frustration and anger. Michael Bonner, a North Carolina second-grade teacher and published author, tweeted, "One day I am going to deliver a prolific dissertation on how it feels to live in a continuous cycle of disrespect as a black man. Gigantic brands like @gucci create offensive 'fashion', quickly apologize, and then state, 'We did not know.' I don't care. This is unacceptable."
The sweater was removed from Gucci's website, and the Italian luxury brand released a statement saying it "deeply apologizes for the offense caused by the wool balaclava jumper." The statement continued, saying, "We consider diversity to be a fundamental value to be fully upheld, respected, and at the forefront of every decision we make. We are fully committed to increasing diversity throughout our organization and during this incident into a powerful learning moment for the Gucci team and beyond."