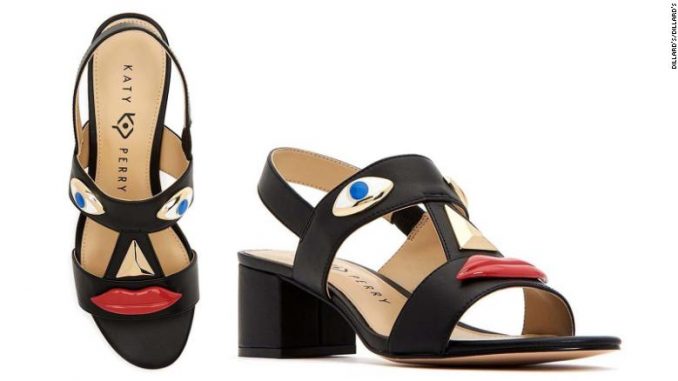 Tara O'Leary, Staff Writer |
Katy Perry received backlash last week after complaints that designs from her shoe line resembled blackface. The controversial looks were on two of her shoes, the Rue Face slip-on loafer and the Ora Face block-heel sandal. Both shoes were designed with a face on the top, featuring blue eyes, a gold triangular nose, and red lips. The black version of the shoe particularly caught a lot of attention and began circulating on social media.
Katy Perry Collections have since removed the problematic footwear from their website and various stores, including Walmart, Lord & Taylor, and Macy's. The pop superstar and her team also released a statement in regards to the shoe scandal, saying, "I was saddened when it was brought to my attention that it was being compared to painful images reminiscent of blackface." The company took the time to acknowledge the pain they caused and explained that creating such a hurtful shoe was never their intention. "The Rue and The Ora were part of a collection that was released last summer in nine different colors and envisioned as a nod to modern art and surrealism," they said.
Katy Perry's controversial shoe comes less than a week after Gucci was under fire for creating a sweater resembling blackface. Their black-knit turtleneck can be pulled over the lower part of the wearer's face, which included an opening for a mouth with wide red lips around it. After the huge company was put on blast the $890 sweater was discontinued and an apology was released.
Unfortunately, those were not the only blunders in the fashion industry this past year. In December, Prada released bag charms resembling monkeys with big red lips. Following backlash, they removed the collection. Spike Lee recently criticized both Prada and Gucci on his Instagram, stating that the companies "don't have a clue when it comes to racist, blackface, hateful imagery." Lee also added that he will no longer wear either brand "until they hire some black designers."
Adidas recently received complaints after releasing a sneaker that was titled "Celebrating Black Culture" Ultra Boost Uncaged. This shoe was part of a series meant to commemorate Black History Month. However, the "Celebrating Black Culture" sneaker was a completely white shoe. After many criticized the popular company, a statement was released addressing the situation, "we added a running shoe to the collection that we later felt did not reflect the spirit or philosophy of how Adidas believes we should recognize and honor Black History Month." The shoe was then removed from the series.
Most of the criticism regarding the Katy Perry incident came from Twitter users reacting to images of the shoes. These pictures made their way around the app very quickly as many people were upset by it. "In fairness, both shoes look terrible but someone should have said 'this black shoe looks like black face, let's not do this'" tweeted one user. "Ignorance is never a fashion statement," another said. Others also called out Gucci writing, "blackface shoes to go with @gucci blackface sweater."
According to Katy Perry Collections' website, the shoes are "designed 100 percent" by the pop singer as she draws inspiration from her travels, humor, and imagination.