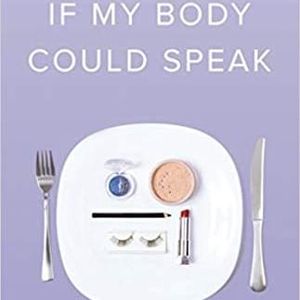 Katie Hebert, Staff Writer |
What specifically draws many into the art of poetry is the act of healing that it provides; the ability to write about difficult things and turn them into positive solutions, healing, and growth. One poet who is able to speak to trauma in such a brilliant way is Blythe Baird, whose newest book "If My Body Could Speak" was released on February 5, 2019 by Button Poetry.
This is Baird's second full-length collection of poetry. Some of the poems featured in "If My Body Could Speak," were also in her first book "Give Me A God I Can Relate To," which was published by "Where Are You Press" in 2015. Baird graduated from Hamline University in 2018, where she earned degrees in both Creative Writing and Women's Studies.
As Baird describes, "'If My Body Could Speak' is a celebration of girlhood and survival, and all of the struggles and triumphs that come with it." Baird speaks to many different themes throughout this book, sharing her stories and touching on topics such as eating disorders and mental illness, systemic sexism and sexual assault, and the many emotions of understanding one's queer identity. Baird connects all the themes gracefully, and elegantly uses her poetry therapeutically for herself, as well as to open up discussions of difficult topics and create space for those who have shared these experiences.
The first poem in the book, "When The Fat Girl Gets Skinny" is probably Baird's favorite poem, of which a video performance was published on YouTube by "Button Poetry" in 2015, reaching 2.8 million views. The popularity achieved by that poem led Baird to eventually create a short film inspired by the work, airing on her personal channel, which reached over 7 million views. Baird writes about the many complexities of having an eating disorder, saying within the poem, "if you develop an eating disorder / when you are already thin to begin with, /you go to the hospital / if you develop an eating disorder when you are not thin to begin with, / you are a success story / … / how could I not fall in love with my illness?" This poem, and many others, exemplifies the non-linear trajectory of healing and how the body-shaming in our society provokes mental illnesses. By acknowledging such issues, Baird is able to connect to body policing and how from a young age she and many girls and women as well, are taught how their bodies are supposed to look like.
Other famous poems, previously seen on YouTube, are also featured in the book, including "Girl Code 101" and "Pocket Sized Feminism." Through these poems, and others in the book, Baird writes about the harsh realities that women face on a daily basis, discussing violent systematic sexism, written in conjunction with rape culture that is ingrained heavily in our society. She touches on sexual assault and the concept of rape culture that is very prevalent in our society. Her poems look at gendered and sexual violence as a spectrum, talking about the idea of dress codes and the double standards of being raised that she noticed between her and her brother, to talking about rape and sexual assault. She is able to discuss her trauma in way that is very cathartic for her. She further opens discussions concerning violence that usually do not get the space and platform to be heard.
Baird, who is honest and open about her sexuality, writes about the complexities of having a queer identity in a heteronormative world. In one poem, revolving around coming out to her mom, Baird writes, "When my mother asks if I am gay, I tell her I am / sorry. / When she asks, How can you possibly love something / that looks just like you do? / I wonder how long / she has hated herself." She also talks about the complexities of coming out and the fluidity of labels, writing: "& if it turns out I'm not 100% gay, who do I ask to forgive me?" following it with a common reaction many queer women get about "lying" about their sexuality: "I never want to see the smirk / on everyone's faces / if I ever dare to wake up one day / like a white flag in a boy's arms / just as everyone suspected / I would." Baird is able to not only celebrate her queer identity in multiple poems, but manages to perfectly describe all the complicated emotions and feelings that come with holding an LGBTQ+ identity.
Basically, this book is golden. Blythe Baird's honesty and personal vulnerability creates a space for those who have also experienced similar things. Through her writing, it is evident that not only she is healing, but she is helping others heal. Poetry like Baird's allows people to feel a little less alone, and it is a gift to find community in such brilliant writing. While reflecting on difficult experiences, Baird's writing also shows the progression of hope and healing and how far she has come. In one of the last poems of the book, Baird writes, "Watch me build an empire from the ashes of everything that tried to destroy me," — a brilliant way to summarize not only the book, but Baird's strength, resilience, and poetry as a whole. Definitely a 10/10 read.