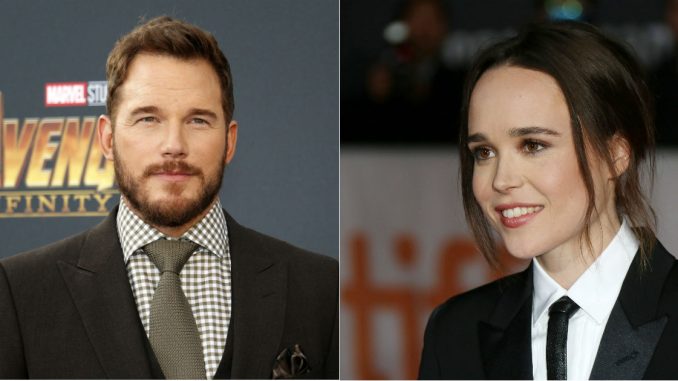 Casey McShea, Staff Writer |
Actress Ellen Page made headlines last Thursday after calling out actor Chris Pratt for attending an "infamously anti-LGBTQ" church after he appeared on "The Late Show With Stephen Colbert" and discussed his religious side.
The "Guardians of the Galaxy" star was on the show to promote "The Lego Move 2: The Second Part," and talked about how he had just finished a 21-Day Daniel Fast, which he took part in through his church. Page tweeted about Pratt's appearance shortly after, writing, "Oh. K. But his church is infamously anti lgbtq so maybe address that too?" She later tweeted again, saying, "If you are a famous actor and you belong to an organization that hates a certain group of people, don't be surprised if someone simply wonders why it's not addressed," Page tweeted. "Being anti LGBTQ is wrong, there aren't two sides. The damage it causes is severe. Full stop. Sending love to all."
Pratt is reported to attend Zoe Church in Los Angeles, a congregation whose pastor previously preached at an Australian branch of Hillsong Church, a popular Christian parish that other celebrities such as Kendall and Kylie Jenner, Justin Bieber, and Selena Gomez have attended. The pastor also modeled Zoe after Hillsong. In 2015, Hillsong New York branch leader, Carl Lentz came under fire for saying homosexuality is a sin and that a gay member could never hold a leadership position. That same year, the church's global senior pastor, Brian Houston, released a statement against the marriage of two male Hillsong choir members. In a separate essay, Houston wrote that his church "welcomes ALL people but does not affirm all lifestyles. Put clearly, we do not affirm a gay lifestyle and because of this we do not knowingly have actively gay people in positions of leadership, either paid or unpaid." The church has also been accused of having a history of participating in gay conversion therapy, which was detailed in a Daily Beast expose in 2016. The expose also described how Hillsong pastors tried to "pray the gay away" and preached about overcoming "gay demons."
Pratt responded to the allegations against him and his church in an Instagram story, writing, "It has recently been suggested that I belong to a church which 'hates a certain group of people' and is 'infamously anti-LGBTQ.' Nothing could be further from the truth. I go to a church that opens their doors to absolutely everyone. Despite what the Bible says about divorce my church community was there for me every step of the way, never judging, just gracefully accompanying me on my walk. They helped me tremendously offering love and support. It is what I have seen them do for others on countless occasions regardless of sexual orientation, race or gender. My faith is important to me but no church defines me or my life, and I am not a spokesman for any church or any group of people. My values define who I am. We need less hate in this world, not more. I am a man who believes that everyone is entitled to love who they want free from the judgment of their fellow man."
In larger letters beneath the message, Pratt wrote, "Jesus said 'I give you a new command, love one another.' This is what guides me in my life. He is a God of Love, Acceptance and Forgiveness. Hate has no place in my or this world."
Page had appeared on Colbert's show on Jan. 31 and condemned Vice President Mike Pence's anti-LGBTQ policies and his support of conversion therapy.
"If you are in a position of power and you hate people, and you want to cause suffering to them — you go through the trouble, you spend your career trying to cause suffering. What do you think is going to happen?" Page said. "Kids are going to be abused, and they're going to kill themselves. And people are going to be beaten on the street. I have traveled the world and I have met the most marginalized people you can meet. I am lucky to have this time and this privilege to say this. This needs to f—ing stop."