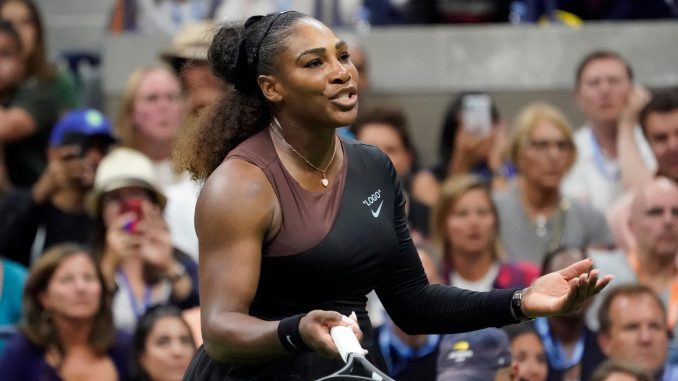 Tara O'Leary, Staff Writer |
The September 8 Women's Singles Final at the U.S. Open is still making headlines for its controversial finish. Global superstar Serena Williams lost the match to 20-year-old Naomi Osaka after receiving three violations from umpire Carlos Ramos.
The first violation was a warning on coaching. Her coach, Patrick Mouratoglou, was seen giving Williams a hand signal which resulted in Ramos making the call. Williams then disputed the call saying, "I don't cheat," to which he replied, "I know that," and she thanked him. Many believe this interaction contributed largely to the events that happened later in the match.
Serena's frustrations were shown a second time when she smashed her racket on the ground in response to hitting the ball into the net. A second violation resulted in a lost point. Williams then argued with the umpire that she should only have gotten a warning for smashing her racket, believing it to be her first offense. Ramos, on the other hand, was calling it as her second offense. The conversation they had following the coaching warning was what seemed to create this confusion.
During the argument, Williams demanded an apology and called Ramos a thief for stealing a point from her. Ramos then called a third violation on Williams for verbal abuse, resulting in a game loss. The crowd booed as the argument continued, and a tournament referee was brought out to intervene. "There are a lot of men out here that have said a lot of things and because they are men that does not happen to them" Serena told him. Ultimately, Williams lost the match to Osaka, who became the first Japanese player to win a Grand Slam Singles Title.
Since then this match has been under a great deal of scrutiny, leaving many critiquing both Serena Williams and Carlos Ramos. A popular belief amongst former umpires is that Ramos made the right calls, but he didn't communicate them well. Long time tennis umpire, Mary Carillo, had a lot of criticism for the 36-year-old tennis star, saying that Williams is a great competitor at her best, but at her worst she "acts like a bully." Carillo also spoke up in defense for Osaka, blaming Williams for "poisoning the atmosphere" for the 20-year-old winner. The crowd was booing throughout the dispute, but it reached its worst during the trophy ceremony, which had Osaka in tears. However, when Williams was given her award for being a finalist, she opted out of answering questions and instead congratulated the younger tennis player, silencing the angry crowd.
Four time U.S. Open champion and tennis icon, Billie Jean King, critiqued Ramos in a piece she wrote for the Washington Post. "He made himself part of the match. He involved himself in the end result," wrote King, who also called the umpire's actions an "abuse of power." Aside from criticizing Ramos, she also stood by the tennis star who argued sexism. "Women are treated differently in most arenas of life. This is especially true for women of color," she wrote. The context that Serena Williams is a woman of color who has faced sexism and racism her whole career cannot be ignored, and it showed in the response to her violations.
Comment sections of online articles were flooded with racist remarks. Mark Knight, a cartoonist for the Herald Sun, depicted the event with a drawing of Williams that resembled those of African Americans from the Jim Crow era. In this cartoon he also depicts Osaka as a blonde, white woman. Knight argues that his cartoon is not about race but many disagree. Author Noah Berlatsky fired back at Knight saying "The problem is that picking up racist iconography from 100 years ago in order to attack a black woman still makes you racist, even if you think you're participating in the tradition of comics rather than in the tradition of racism."
Along with racist backlash, Williams received a fine of $17,000, which left many questioning if that was fair when some of her male counterparts have been fined less for doing worse. Roger Federer cursed at an umpire in 2009 and was fined $1,500. David Nalbandian kicked a lineman in 2012 and was fined just over $12,500.
Serena Williams has been labeled by Nike's most recent ad as "the greatest athlete ever,"  but her fight for equality seems far from over.