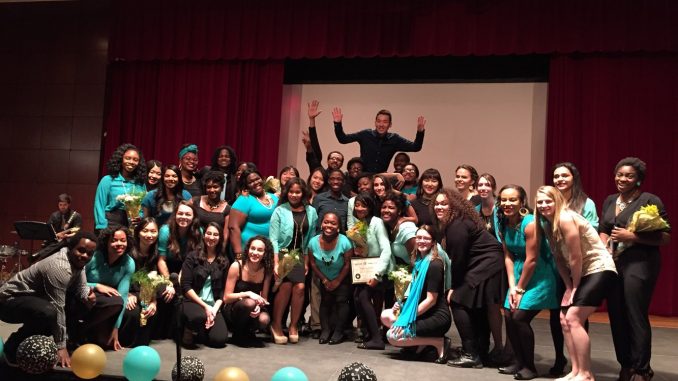 Alexandria LaFlair, Staff Writer |
November 10 from 6 to 8 p.m., the Goodrich Theatre was full of life. Xclusive, an inclusive Afro-Caribbean dance team on campus, hosted one of their annual shows. This year's theme was The Party Shot Edition, in which other diverse clubs joined the program for an evening of pure enjoyment, empowerment, and art.
The show opened with Xclusive dancing on and off the stage to a traditional Caribbean song. The hosts Mariama Coulibary, who created Xclusive, and Jonathan Brown, President of Students of Color Coalition, led the audience through Xclusive's journey with traditional and hip-hop dance.
According to Britannica, in Afro-Caribbean dance, "the legs are frequently bent, with the feet stamping out rhythms against the ground. The torso and back are also very mobile, executing sinuous rippling actions or more jerky, rhythmic movements. The body is frequently bent slightly forward, and there is greater use of the hips, which sway and circle in syncopated rhythms. Gestures and facial expressions are used in some narrative dances [as well]."
Each act in the show presented a scene that went along with the story: two groups of girls dance battling at a party, fighting for everyone's attentions. Their outfits were always coordinated and no props were used, making the focus of the evening their well-choreographed dancing. The songs were extremely catchy. The audience was encouraged to dance along throughout the show and take to the stage during intermission.
Students from Songwriter's Club (SWC), the Organization for Diversity in Science, and Voices of Serenity were also a major part of the program in terms of setting up and advertising for the show as well as contributing to the entertainment.
SWC member Darnel Richards performed an original song and rap, "Victim of Circumstance." SWC member Wensnel Pierre performed a moving poem, "The Darker Brother."
Afterward, Voices of Serenity performed a dance set to a spiritual. Spirituals are an oral tradition started by African slaves who wanted to communicate hardship and Christian hope. These songs are still alive today in many modern African-American churches. The participants of the dance wore white, enabling the power and inspiration of the song and their movements.
The crowd's favorite part was when the dancers split into two groups, the red shirts verses the black shirts, and engaged in an epic dance battle.
The show closed with a gospel piece sung by Voices of Serenity and a final dance by all of the group members.
Xclusive meets Tuesdays at 7 p.m. and Saturdays at 2 p.m. All are welcome to join! For more information, contact Secretary Cheyenne Pommelle at [email protected].