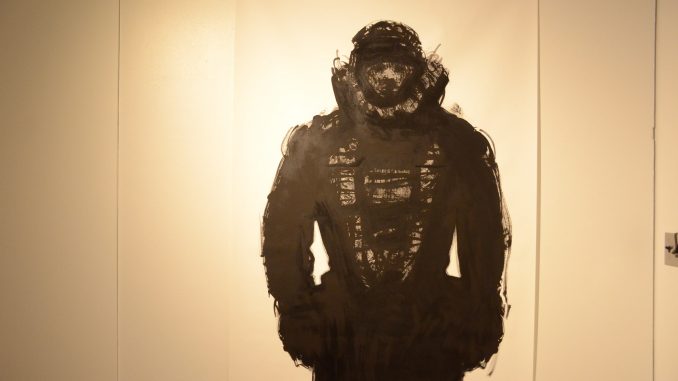 Alexandria LaFlair | Staff Writer
Art is more than seeing something cool and complex. Art tells a story, no matter what the piece is or tries to represent. October 16 was the opening of the new art gallery, Mystic Black: The Essential Nature, in the Project Space Gallery. The reception was three days later, on October 19, from 5 p.m. to 7 p.m.
On the evening of the reception, the air was filled with eerie piano music – played live, behind the scenes. All the pieces are stark black figures with a vague human resemblance. As a subjective viewer, the themes of war, mystery, and oddity appeared in my mind.
Many of the pieces' titles reference religious, Greek, or Native topics. The piece "Chante" is named after the Goddess of Beauty and Love, and "Ezheo" is a hybrid bird-man named after the Native American saying for "he walks alone."
The featured artist is Ruben Salinas, an Assistant Professor of Illustration and Foundations Design here at SUNY Oneonta. He started at Oneonta only a year ago and previously taught in Georgia and Texas. He has two associate's degrees, a BA, and an MFA in art.
He described the beginning of his art career, stating, "My first efforts in painting were disappointing." Later on, he told the story of how he destroyed one of his images with his bare hands, just to realize how much better and less "perfect" it turned out, a "boundless experience."
The inspirations for his pieces were "mystery and enigma."
He proudly ended with, "My work does not define anything; it is an attempt to utter the inexpressible."
See the work for yourself between 11 a.m. to 5 p.m. Monday through Friday. The gallery closes November 21.