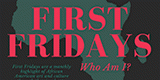 Alexandria LaFlair, Staff Writer |
On October 20 at 6:30 p.m., the Divine Leaders hosted the premier of First Fridays, the organization's monthly event to "highlight African/Black/Latinx art and culture, showcased through the visual and performance arts."
The Divine Leaders describe themselves as a "a student mobile organization working heavily … to represent the marginalized students of the Oneonta campus and larger community, especially the Black/African-American and Latinx population."
Their five foundational groundworks are (1) mental health, (2) self-empowerment, (3) political leadership, (4) social justice/activism, and (5) academic excellence.
The theme of the first installment of the First Fridays series was "Who Am I?" Audience members were encouraged to donate and fill out a name tag stating who they are and how they define themselves. Some simply wrote their names, while others included their ethnicity or encouraging phrases.
Once seated in the Hamblin, the show began with a black out. Women appeared around the room, exclaiming, "I am (their race or major characteristic), but I am not (a stereotype)."
The MCs, President of the Divine Leaders Shi Smith and Founder Cornell Findley, introduced the club as an all-inclusive group before their show began.
Many of the acts were original pieces of poetry. One, entitled "Curls," was written and performed by Graciela Mora. Mora's poem spoke about naturally curly hair, how it has been perceived throughout history, and the meaning that curly hair has for her.
Voices of Serenity sang two pieces known as "spirituals," an oral tradition started by African slaves who wanted to communicate hardship and Christian hope. These songs are still alive today in many modern African-American churches.
The last performance was a routine by DSTEP, the Divine Leaders' stepping-dance club. "Stepping" is a traditional African-American percussive dance, using every part of the body as an instrument, such as by slapping one's thighs or stomping on the ground. The dance was extremely lively and coordinated, making it a remarkable way to close the night.
Afterward, there was a Mix and Mingle to view the visual art pieces created by Divine Leaders' members and friends as well as school staff and faculty.
As someone who is not a member of the African-American nor Latinx communities, it was eye-opening to witness their stories and struggles through performances and art pieces. They offered a raw and honest portrayal of living as young minority students. Anyone is encouraged to join the Divine Leaders and attend their events in order to further inclusion, education, and shared experiences amongst a diverse study body.
Contact [email protected] for more information on Divine Leaders' meetings and upcoming events.