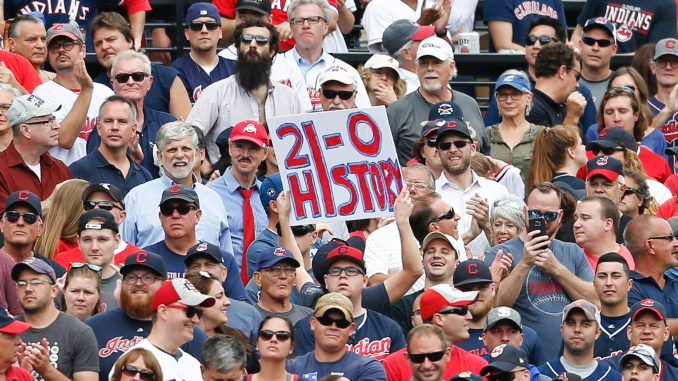 Wyatt Cushman, Staff Writer |
Baseball is a game of inches, a mental game, and a game where you make it to the Hall of Fame in nearby Cooperstown even if you fail to get a hit seven out of ten times at the plate. This game can be cruel to everyone involved. Hitters may have streaks where they go hitless in 30 straight plate appearances, while pitchers can be dominant one game and give up eight runs the next. So many things must go your way to win a baseball game, and for four weeks the Cleveland Indians got every single bounce to go their way en route to 22 straight victories.
August 23 had been the last time the Indians lost a game until they were beaten on Friday, September 15 by their divisional opponent, the Kansas City Royals, four to three. This streak of 22 consecutive wins set an American League record, which was previously 21 straight wins by the 2002 Oakland Athletics. The longest winning streak in baseball history is more than a century old and is held by the 1916 Giants with 26 straight wins. While the Indians didn't quite make it to 27, they have absolutely nothing to be ashamed of. In baseball, it is hard to win three straight games, let alone 22. What Cleveland did is truly remarkable.
22 is the number of wins the Indians had in a row, but that wasn't the only impressive statistic they put up during this run. As a team, the Indians batted .306 while their opponents batted just .206. Their team earned run average (ERA) was an incredible 1.58 which helped them to a plus 105 run differential during the streak. These are video game-like numbers the Indians were putting up, and the rest of the MLB should take notice as October quickly approaches.
Just like in any sport, a team that is playing well and clicking on all cylinders heading into the postseason can, and will, go deep in the playoffs. Right now there is no question Cleveland is the team to beat in the American League, and they may just be the favorite to win it all. While we know the regular season and postseason are two different animals and that it will take a lot more to win in October, Cleveland has proven itself. A World Series appearance a season ago shows that this is no fluke and the Indians have a real shot at ending their 69-year World Series drought.
The Indians run of 22 straight wins is something that could stand in the record books for years to come. People may not realize that something like this doesn't happen very often and it should be celebrated. When the Indians lost on September 15, their fans gave them a standing ovation to recognize their team and to say thank you for giving them great baseball to watch for weeks. The streak is over and the Indians are a focused group. The only number that matters to them and their loyal fans now is 11, which is the number of postseason wins the team will need in order to win it all later this fall.