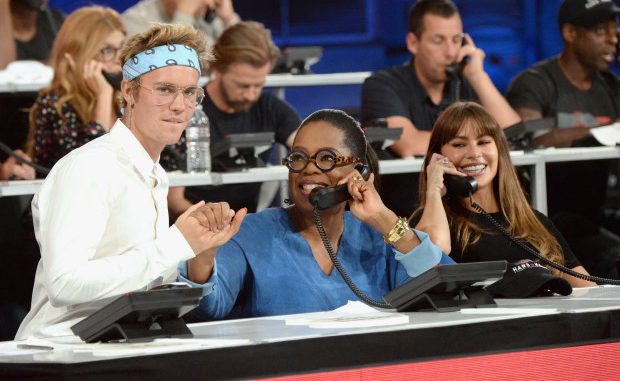 Michelle Barbero, Staff Writer |
Tuesday, September 12 marked the day that around 44 million dollars was raised to help the victims of Hurricane Irma and Hurricane Harvey. "Hand in Hand" was an hour long televised fundraiser streamed online and broadcasted by various networks.
CBS Journalist Norah O'Donnell and a group of celebrities hosted the event, asking people to call in or go online to donate. The stars came together in four cities across the United States: Los Angeles, San Antonio, Nashville, and New York City. The arrangement of A-list celebrities included Oprah Winfrey, George Clooney, Cher, Julia Roberts, and Barbra Streisand. In addition, there were performances given by several musicians such as Usher, Stevie Wonder, George Strait, Tori Kelly, and Luis Fonsi. Some superstars had close connections to Texas, making their messages even more genuine and heartwarming. Jamie Foxx explained that he was born in Terrell, Texas and that he has a lot of friends who live in Houston. Another icon, Beyoncé, was born and raised in Houston, Texas. She encouraged people to come together and support each other during this time of need.
"Natural disasters don't discriminate. They don't see if you're an immigrant, black or white, Hispanic or Asian, Jewish or Muslim, wealthy or poor. It doesn't matter if you're from Third Ward or River Oaks. We're in this together," said Beyoncé. Despite all the celebrity face time during the telethon, the victims of the hurricane were the ones in the spotlight.
According to CNN, "Tuesday's [Hand in Hand] program highlighted survivor and victim stories as well as tales of heroic saves by first responders and ordinary people alike."
Selena Gomez tearfully shared the tragic story of the Saldivar family who lived nearby her hometown of Grand Prarie, Texas. Seven family members attempted to get away from Hurricane Harvey in their van, but were swept away by rising floodwaters. The deceased include couple Manuel, 84, and Belia, 81; Devy, 16; Dominic, 14; Xavier, 8; and Daisy, 6. They are survived by Sammy Salvidar, who managed to climb out of the driver's side window.
Another story was told, that of one man who was trapped in his SUV on Interstate-10 in Houston. He was rescued by passersby who then formed a human chain. Texan hero Collette Sulcer died carrying her three-year-old daughter Jordyn to higher ground as the flood water began to rise. Jordyn was found clinging to her mother's dead body, and was soon-after treated for hypothermia.
One of the most moving themes of the "Hand in Hand" telethon was that of Americans caring for their fellow citizens. The money that was collected during the telethon will go to a list of groups including Best Friends, Feeding Florida, Save the Children, Habitat for Humanity, Feeding Texas, Direct Relief, and the Rebuild Texas Fund. Part of the money raised will also be given to the ASPCA to go towards helping the pets and animals who were affected by the hurricanes. Donations can be made online at handinhand2017.com.