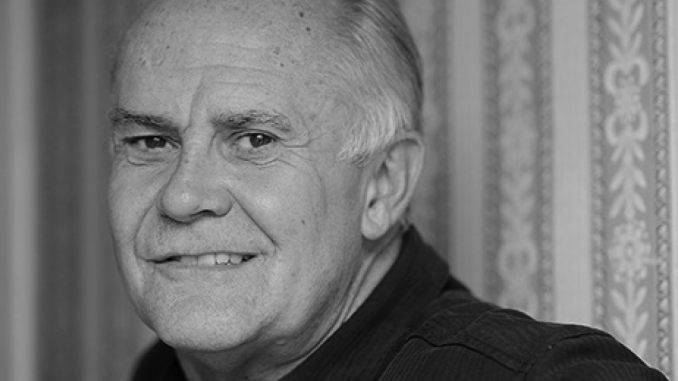 Paige Welch, Staff Writer |
Marc Smith came to campus on Wednesday, March 29 as a guest speaker in the Red Dragon Reading Series. Smith is credited with starting the Poetry Slam movement, an art form which combines poetry and performance. An ex-construction worker turned poet, he took Chicago's East Side by storm when he set up the first Poetry Slam event in 1986. During his introduction, he cited the reason why slam poetry is such a powerful multi-genre creation, as it changes "what poetry is and [what it] can do." Throughout the hour-long event, he definitely reinforced this idea as he added body language, intriguing diction, and vocal emphasis to his readings to entice the audience with his performance.
Slam poetry does not involve a fourth wall that separates the world of the performance and the audience. Smith would often leave the stage and walk among the seats, sometimes appearing to be in conversation with an audience member. Since slam poetry has become an outlet for poets to visit painful stories and past experiences, the audience-performer relationship becomes very intimate.
The first poem provided a way to get the audience moving and involved. Smith was loud and working the stage, asking the viewers to participate by conveying the content of a poem through action. The mood was immediately more energetic, and I could tell that this was not going to be a typical poetry reading.
He then softly faded out from this first interactive project into an emotional poem starting with the line, "I'm wearing my father's coat. He has died. I didn't like him, but I wear the coat."
The lights faded as the mood became more somber. Employing similar strategies that oral storytellers use to captivate their audience, Smith filled his slam performance with hand movements, and the voice of his poems was always quick, blending metaphors and creating vivid images for the audience.
At some points, he covered works by classic poets, but strived to give these old poems new life, saying, "I don't want a passive audience. I want to get on the inside."
But between poems, he would engage with the audience to remind us all of his humanness. He is conflicted by being both a shy person and a performer, even after all these years.
In his words, "I always had this conflict of being exposed, putting it out there, and wanting to run away."
This message has the potential to inspire those that have wanted to perform, but are afraid that they don't have it within them or that they have nothing worth hearing.
He closed his performance with a poem about the "it," an ambiguous feeling of sadness, sameness, and monotony. The poem spoke of how we "distance ourselves from that music," or that other world that speaks to our souls. His words were very beautiful, and he stayed true to the slam tradition by living out the poems rather than just reading them. Overall, it was a unique experience to say the least, and it was an honor to see the founder of such an influential art movement perform here on campus.