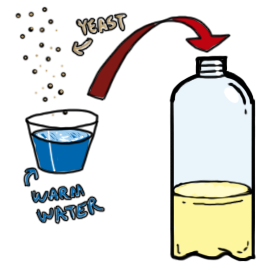 David Anderson, Staff Writer |
This past Wednesday, the Biology Club added a demonstration of exothermic reactions to its weekly meeting. Exothermic reactions occur when energy or heat is released during a chemical reaction. The club demonstrated this particular reaction in an experiment known as "Elephant Toothpaste," where hydrogen peroxide is mixed with dish soap and combined with warm water and yeast. When the two mixtures are combined, the yeast removes the oxygen from the hydrogen peroxide, causing it to foam up and expand rapidly. The reaction is referred to as Elephant's Toothpaste because, if done correctly, the final product looks like what Elephants would use if they brushed their teeth.
For extra fun, the Biology club even added food coloring to make their final concoction turn pink. If you love science and are looking for a fun-filled way to spend the weekend, this could be the reaction for you. All you need is one half cup of 20-volume hydrogen peroxide, one tablespoon of dry yeast, three tablespoons of warm water, dish soap, and two containers. If you need any help, contact the Biology Club. They meet every Wednesday from 6:30 p.m. to 7:30 p.m. in Science 1, room 009. This experiment provides some shocking surprises but is ultimately easy to clean up. Get your friends together and unleash your inner scientists.