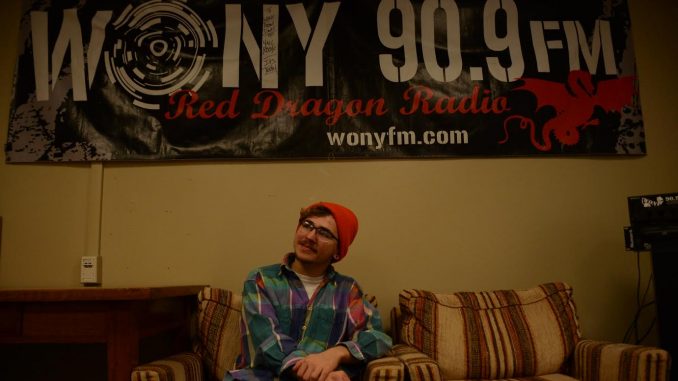 David Anderson, Staff Writer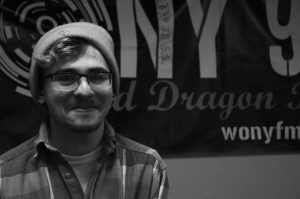 Logan Kramer is a third-year Music Industry student at SUNY Oneonta. This is his second year as a DJ for 90.9 FM WONY, the school's student-run radio station located on the ground floor of Alumni Hall. Logan is on air every Friday from 4:00 to 6:00 p.m. along with his co-host, Collin Ungerleider. I sat down with Logan this past Thursday and talked with him about how he came to Oneonta and his experience with music.
David: First off, where are you from and why did you come to SUNY Oneonta?
Logan: I'm from Brooklyn, NY and I came to Oneonta because of the Music Industry major, it was the only one of the schools that I applied to that really specialized in that.
D: How did you hear about WONY?
L: Before I came to the school I knew about the station, it was actually one of the reasons I came here. I was like, they have a radio station? That'd be fun to join, so I did. I joined my sophomore year.
D: If you could categorize your show as one genre what would it be?
L: Well it's pretty all over the place, but a lot of its electronic. I like a lot of indie stuff, electro-pop stuff.
D: If someone wanted to get involved at WONY what advice would you have for them, and what would you say are some ideal traits for a WONY DJ?
L: A lot of people can do this, the main thing is just liking music but you could also have a talk show. You just have to be passionate about it and go through the training with one of our lovely DJ's.
D: What's your first memory of music?
L: I've always really liked music, I know when I was younger I would just jump around and hit things, I was very rhythmic. I guess I've always had music inside of me, I know that sounds corny.
D: So music was just kind of an instinct.
L: Yeah, and then I started playing instruments, the drums and the piano and I just kinda jumped around from those. I know this is kind of basic, but I remember my parents always really liked the Beatles, I remember them listening to this radio show Breakfast with the Beatles.
D: Has your musical taste changed over the past five years?
L: The main artists that I really love are artists I've been listening to since high school. I really like CHVRCHES, M83, and Passion Pit. Vampire Weekend is one of my all-time favorites.
D: What about CHVRCHES speaks to you?
L: It's very synth-inspired and it reminds me a lot of eighties music like Depeche Mode. I like the stage presence CHVRCHES as they're very energetic.
D: What's your favorite release from last year?
L: Coloring Book by Chance the Rapper. It's very uplifting and gospel-y. It's more like intellectual rap, it makes you think about the lyrics. I listened to it a lot during the summer and it just made me happy. I've always liked Kanye so The Life of Pablo was really exciting, also Beyonce's album Lemonade was really good. It was just a good year for big-name popular music.
D: What do you expect from the artists you like?
L: I like when artists do things that are different from what they've done before. Kanye is a good example. Not one Kanye album sounds the same, each is a different era.
D: What's one track for everyone to listen to today?
L: "For Emma" by Bon Iver.
D: What's one album that would enhance everyone's life?
L: Hurry Up, We're Dreaming by M83.
D: What are your plans for the future?
L: Try not to get too stressed about after graduation but also try to get an internship this summer. I'm still up in the air but after I graduate I'd like to do radio things. I think that would be cool but I'm also interested in production.
D: Any advice for anyone entering the music industry program?
L: Join WONY! Come down to Alumni Hall or email us at [email protected]