Katie Kilichowski, Contributing Writer
As fall approaches us, so do the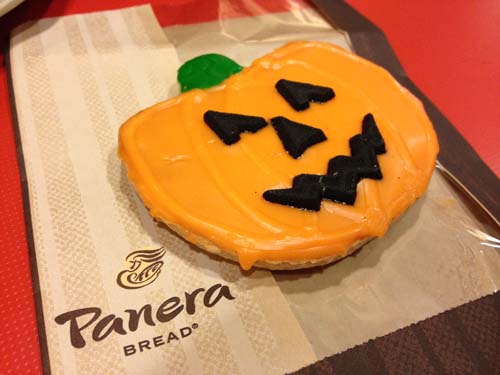 delicious foods that follow the autumn season. The leaves are changing, and so are restaurants seasonal specialties. If you are a fall lover, and even better a fall dessert lover, you'll enjoy this article on how to get all your fall sugars in Oneonta!
Dunkin Donuts
A favorite spot to get a good dose of fall sweets is through Dunkin Donuts for their pumpkin muffin. The muffin has a pumpkin crumble on top with a generous drizzle of icing and a soft, moist center. Even if you eat all the crumble first, the plain pumpkin part is still very flavorful. Dunkin muffins are about two dollars or less and are fairly large. Along with the muffin, Dunkin offers pumpkin glazed donuts which run at just one dollar and are almost as great. For the coffee drinkers, Dunkin has fully adopted the pumpkin trend and offers a pumpkin spice latte. Whether you drive there or take the OPT bus, the ride is worth it.
Yellow Deli
Yellow Deli has a pretty simple, straight forward menu that does not change throughout the year. But there is an exception: Yellow Deli has seasonal desserts. This means pumpkin pie has its time in the spotlight for the fall months. This pie is delicious, and even better, it is homemade. Yellow Deli's pumpkin pie is a must try, especially when paired with their hot apple cider.
Starbucks
The most common place to get a great fall fix is none other than Starbucks. Some people may even argue Starbucks started the pumpkin spice trend before anyone else, but that debate is for another article. Since our Oneonta campus is home to the only Starbucks within 60 miles, all the students get to enjoy their pumpkin spice lattes. Starbucks also has pumpkin shaped sugar cookies, which are incredibly festive. Whether you use your declining dollars or break out about five dollars, you're sure to enjoy your Starbucks sweets.
Panera Bread
A farther place to get fall goodness is Panera Bread. Panera Bread is home to the pumpkin muffie. What is a muffie? A muffie is a muffin that is only the top part, and arguably everyone's favorite part of the muffin. If you are feeling like you need more fall than that, Panera has full pumpkin muffins, and has pumpkin cookies too. Not only are the pumpkin cookies delicious, they are adorable too.
Ice Cream: Stewart's, DQ, Friendly's
Who says you can't enjoy ice cream in the fall? Stewart's is ready for fall with batches of limited edition pumpkin pie ice cream and apple pie ice cream. These ice creams are only here for the fall season. Is there anything better than pumpkin pie with ice cream? Dairy Queen combines the two fan favorites of vanilla ice cream and pumpkin pie pieces to create the Pumpkin Pie Blizzard. The Pumpkin Pie Blizzard is being honored as the Blizzard of the month at Dairy Queen, so get them before September ends. If Stewart's and Dairy Queen do not impress you, Friendly's ice cream is following the fall fashions too. Friendly's has limited edition pumpkin ice cream sundaes. Pumpkin ice cream with whipped cream and sprinkles and a variety of toppings? Count me in. All three of these locations are easy to get to thanks to the OPT buses. These desserts are worth the ride and calories!