Derek Dimino, Contributing Writer
Louisville, KY – Lamar Jackson, just three games into his sophomore year, is the greatest college player since Reggie Bush at the University of Southern California. University of Louisville quarterback Lamar Jackson has scored 18 touchdowns in three games, of which he only played a combined seven quarters. Coming out of virtually nowhere, he has become the early front-runner for the most prestigious trophy in college football, the Heisman Trophy. In order to achieve the award, he'll have to outperform the likes of J.T. Barrett, and past Heisman runner-ups Deshaun Watson and Christian McCaffrey.
After the first two games, most were skeptical of the legitimacy of Jackson's first 13 touchdowns of the season, for his opponents, Charlotte and Syracuse, were lower quality Division-I football programs. Jackson made a statement, scoring five electric touchdowns against the second best team in the country, Florida State University, definitively putting the game out of reach by the end of the third quarter. Jackson put up an efficient 216 yards and one touchdown through the air, and another 146 yards and four touchdowns on the ground. His touchdowns were anything but normal, making players look like their feet were a foot deep in cement. He is a living highlight-reel, from jumping over players, to gracefully spinning 360 degrees while taking two big hits, there isn't a way Lamar Jackson hasn't scored.
Through three games Jackson has thrown for 913 yards and eight touchdowns while skating through the defense for 464 yards and a league leading ten touchdowns on the ground. If he continues at this rate of scoring, he'll eclipse his entire freshman year's numbers within two games, and have over 5,000 all-purpose yards and an incomprehensible 72 total touchdowns by the end of this season. To further put his dominance in perspective, Lamar Jackson has scored more points than 114 Division-I football programs through three games.
The comparisons between Jackson's dual-threat capabilities and the great Michael Vick at Virginia Tech have already come out of the wood work. Some immediately thought this was disrespectful to Vick's successful career both in college and the NFL. That was until Vick tweeted that Lamar Jackson was five times better than himself.
Louisville can't start their ticker tape parade just yet, with #5 Clemson and #6 Houston still left on the schedule. With continued offensive and defensive dominance, wins against both undefeated schools are not only plausible, but also likely. Aside from Lamar Jackson, Louisville has the elusive Brandon Radcliff at running back, averaging 11 yards per carry, and James Quick at receiver, with 262 receiving yards on the season. Lamar Jackson has the rare ability to spread the ball around, having thrown eight touchdowns with seven different receivers, while only turning the ball over two times.
Lamar Jackson has left no doubt that he's going to be the hot ticket this college football season. I guess the question is, how far can he go?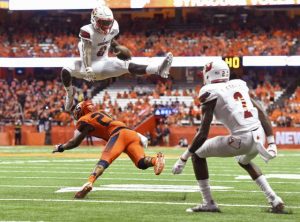 nesn.com