Averi Amsterdam, Staff Writer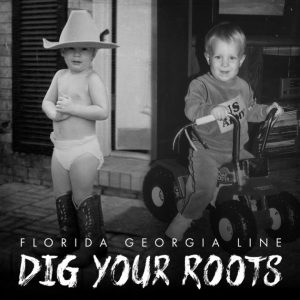 Following their pattern of releasing a new album every two years, Florida Georgia Line did not fail when Dig Your Roots came out on August 26. However, unlike their previous works, this album portrays a more personal story rather than a "summer party" feel.
"H.O.L.Y." and "May We All" were the two singles the country duo debuted over the summer, exciting their fans for the "Dig Your Roots Tour," and the album release, as well as demonstrating their growth as musicians over the years. Longer than their previous albums and with several collaborations, the duo's strive for a multi-dimensional album should be noted.
The album opens up with the sounds of crickets chirping and frogs croaking, submerging the listener into the southern atmosphere. Enticing their fans with the familiarity of their Country Rock sound, the duo ensures they have not abandoned their old vibe. Their collaboration with Ziggy Marley on "Life is a Honeymoon" brought a new reggae feel to the album, and is reminiscent of the old, upbeat, summer kind of jam.
The second of three collaborations in the album tied together new country and old country when the duo worked with Tim McGraw on "May We All." When speaking about the single, Bryan Kelley and Tyler
Hubbard described it as a mix of "Round Here" and "Dirt," singles off their previous two albums. The lyrics' nostalgic feel combines the influence of another popular country star, infused with the duo's past work. Perfectly placed near the midway point of the album, this upbeat tune marks the transition to a notably more calming, vulnerable tone for the remainder of the songs.
For the song "God, Your Mama, and Me," Florida Georgia Line collaborated with the '90s boyband The Backstreet Boys. For any college-aged fan, this collaboration combined the '90s and country heartthrobs to produce the perfect recipe for a catchy, laid back tune.
Florida Georgia Line took a risk with Dig Your Roots. After playing it safe with "Cruise" and the success that single brought, the duo made themselves vulnerable as they held back from the consistent upbeat tempos and infused the lyrics with much more personal experiences. When asked about the influence married life had on the lyrics, Hubbard and Kelley described it as a "man album with some 'married guys still like to party' songs."
Everything was planned out carefully, from the baby pictures on the album cover art, to the order of songs, to ease the listener into their music's new feel. Dig Your Roots serves as a reminder that it is okay to grow, change, and be vulnerable, as long as you do not forget your past or where you came from. Regardless of if you are a country music fan or not, it is highly recommended you take the time to listen to, and appreciate, Florida Georgia Line's latest release.