Aidan Simonds, Contributing Writer
Nine students participated in the 138th Big O' Poetry Slam on Wednesday, September 14, in the Waterfront Room of Hunt Union. They all strived for a chance to compete in the Grand Slam on November 9. In addition to the student performers, notable slam poet Nick Stanovick also shared his poems.
In a poetry slam, various individuals perform original poems in front of an audience. Five members of the audience are chosen to act as judges, and can give a score anywhere from zero to ten. The scores are presented after a poet has finished their reading, then both the highest and lowest scores are dropped, leaving the middle three scores to be added up to get the poet's final score. Once all of the poems are read, the final scores are given, and the two highest scorers move on to the Grand Slam, where the team that will move on to the College Slam Invitational in Chicago will be formed. Each poem must be written by the person that performs it, and they have no more than three minutes to read their creation. No topic is off-limits, allowing students to make poems that are deeply personal to them.
Before the competitors went on stage, there were two openers, Ariana Simpson Elizabeth and Daniela Plunkett, president of the Poetry Slam Association. Following this, the night's feature poet, Temple University alum Nick Stanovick, whose team won the 2016 invitational, performed. He presented many poems about his deceased mother, who died of cancer. A series of poems showed a progression of the grieving process, and how to grow and move on after tragedy strikes.
A tradition in poetry slams is the "sacrificial poet," someone who isn't competing for a spot in the Grand Slam but will still be judged. This poet is used to help the judges get comfortable with the process of scoring a poet. The poet for this event was Stefan Mirvil, who made a humorous poem about his hair, ending with a jab at presidential candidate Donald Trump's hair.
Following that, the real competition began. The names of the nine poets vying for the spots in the Grand Slam were Lacey, Jillian, Chandler, Lillian, Princeton, Gabe, Katie Hebert, Paul, and Gwyn Quagliana. They all got deeply personal, using the poetry as a way to discuss their feelings.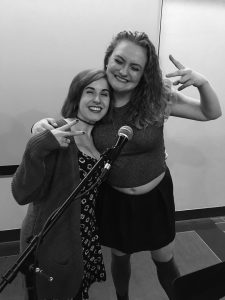 Before the scores and winners were announced, Stanovick once again performed, delivering a poem that he described as very hard to write; a poem about finding joy by accepting pain. Finally, the scores were given, and with scores of 23.8 and 23.9, respectively, Gwyn Quagliana and Katie Hebert moved on to November's Grand Slam.
Hebert, who was visibly shocked, said she was "speechless," and couldn't believe she actually won.
Of the nine performers, many were first-timers, including Lillian, whose poem ended on the chilling final line "A house is not a home when you know you don't belong." Lillian said she usually hates public speaking but she "really enjoyed the experience."
Of his first visit to Oneonta, Stanovick said it "felt really great. It's been super warm and welcoming, there's many passionate people here… I appreciated that there were a lot of first-time performers. There was a lot of talent in the room, and I'm excited to see what the team will look like at Cupsi."
The next poetry slam will be held Wednesday, October 5, once again in Hunt Union's Waterfront room.