Nick Wetzel, Sports Editor
Colin Kaepernick wasn't the most known quarterback in the NFL prior to his stance on the injustices in this country. Most casual fans might know him from being in the Superbowl with the San Francisco 49ers a few years ago. Other than the Superbowl appearance, Kaeper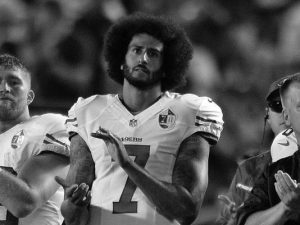 nick hasn't really done much, especially since Jim Harbaugh was run out of town. He even recently lost his starting job to Blaine Gabbert, who isn't the best quarterback to play the game.
None of this has stopped Kaepernick from dominating the headlines for much of the preseason and now the start of the regular season. This is because of his decision to not stand during the national anthem prior to the start of every game. It is within his right to do this, as the NFL has stated that players are "encouraged, but not required" to stand during the anthem.
This has brought an immense backlash from media pundits and fans all over the country. Military officials have been on talk shows and news outlets explaining how the QB's actions aren't the best way to get his point across. Fans are displaying their emotions on social media, some pro-Kaep and some against him.
His actions and words have even led to many other players performing similar acts during the anthem for their games as well. It seems as if there is a player during every game that has joined Kaepernick's cause. Obviously not everyone is going to be happy about these players' decisions to not stand during the anthem. Some may find it offensive or selfish, but one thing everyone has to agree on is that it has started a discussion about why the players are doing this, which is exactly what Colin Kaepernick set out to do: Start a discussion.
This may not have been the best way to start the discussion, but when you are trying to start a conversation like this that makes many people uncomfortable, there isn't a perfect way to go about it. Racism and the injustices that come with it are issues that burn deep and are still prevalent even in 2016. All of the incidents that have happened in our country over the course of the past few years have brought the ugliness of the subject back into the spotlight.
A positive side effect of this whole situation is the recent spike in jersey sales for Colin Kaepernick. His jersey has become the most popular jersey in the NFL since he set out on his objective. Kaepernick made it clear that all of the future money he earns from his jersey sales will be donated "back into the communities." So no one can say that he isn't putting his money where his mouth is.