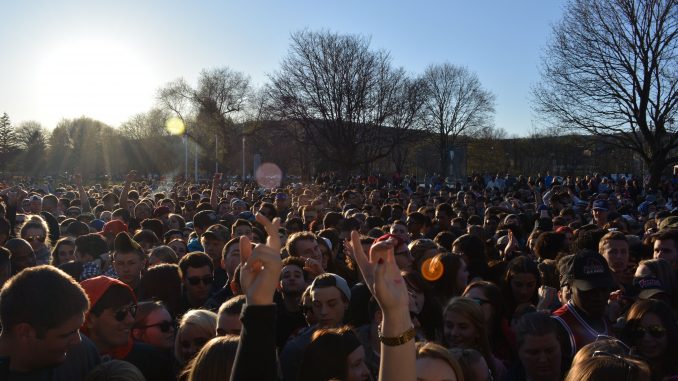 Adia Watts, Editor-in-Chief
A tradition that began in 2006, SUNY Oneonta, Hartwick College, and the Oneonta community celebrated their eleventh annual OH-Fest on Saturday.
Every year, the festival unites the community and the two colleges with a carnival in the  afternoon and a free concert in the evening.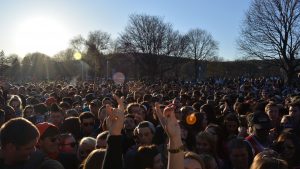 The carnival, which was featured on a closed off Main Street, hosted food vendors, games, and craft sales. It ran from 1 p.m. to 5 p.m. The carnival also saw OH-Factor runners-up Koree Reed, Rumble Strips, Secret Beaches, Darkecy, and Gnarly Chaplin perform.
The main event, the concert at Neahwa Park, began around 6 p.m. and showcased local bands from the two colleges as the opening acts for the headliner.
In past years of OH-Fest, headliners included acts like Pitbull, Mac Miller, Panic! at the Disco, Sammy Adams, and The Ready Set.
Openers for this year's show included SUNY Oneonta band Ghostwalk and DJ group Throwback Time Machine. One half of the DJ duo, DJ ScrewLoose, spun some of the greatest hits from the early 2000s.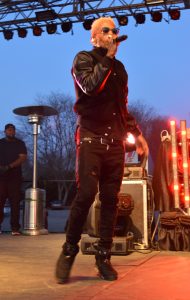 Following the Throwback Time Machine's set, fans anticipated the arrival of the main performer, Kid Ink.
Kid Ink is a rapper and producer from Los Angeles who has worked with some of the best, including Usher, Chris Brown, and Omarion.
However, before the hip-hop artist took the stage, another local celebrity had a few words for the crowd. Oneonta Mayor Gary Herzig, who also made a few appearances at some house parties during the day, got on stage to tell the audience that he was excited about the concert and that he welcomed people of all backgrounds to his great city.
"Black or white … gay or straight," Herzig welcomed them all.
Kid Ink jogged up the stairs leading to the stage at around 8 p.m. to uproarious applause and cheering. Almost immediately, he captivated the fans, as they could be seen passionately singing along to the words of his songs.
Kid Ink performed some of his most popular songs, such as "Bad Ass," "Body Language," and "Promise," the most recent single off of his Summer in the Winter album. He also performed some of his older songs for the die-hard Kid Ink fans in attendance.
At one point in the show, Kid Ink said that he was going to focus on the ladies in the crowd who came with their best friends. He then proceeded to perform his song entitled "Iz U Down," where he asks if a woman and her best friend would both be interested in going home with him.
Currently on a college tour, Kid Ink said that his OH-Fest performance was "one of the more exciting shows that I've had in the last week or two."
Surprisingly, Kid Ink enjoyed the crisp Oneonta air. He said it was perfect weather for a show because even though it was cold, he worked up his body temperature by being on stage. Towards the end of the show, he even took his shirt off and threw it into the crowd.
Senior Shaquasia Harden attended the concert, and she said that she enjoyed Kid Ink's friendly and welcoming attitude.
"My favorite part was after the performance when he came down and talked with the fans. I thought that was really cool. And I heard he was talking to people on Main Street earlier," said Harden.
Kid Ink credited the good performance to all the energy that he was getting from the fans. He also said that his favorite part of the show was the size and diversity of the crowd, and how they still managed to have a fun and energetic show while keeping it clean.
Following the show, The State Times attended a press conference with Kid Ink and the other media outlets from SUNY Oneonta and Hartwick College. Prior to the interview, all questions were approved and the journalists were told that they were only allowed three questions each.
Kid Ink walked into the green and white striped tent where the media was waiting for him directly after his one-hour set, and sat down in a circle of chairs with the reporters to answer their questions.
His demeanor was relaxed and confident as he delivered simple, but interesting responses to each inquisition.
The press conference began with a Hartwick College reporter asking Kid Ink about how he usually feels before going on stage.
"I think it's always nervousness. When I feel nervousness, that means that I'm excited and really ready to show … and do my best … I don't even like to see the crowd sometimes. I like to just be nervous and not expect it and go out there and just let it all be one full embrace," said Kid Ink.
Kid Ink also said that if he were to create a song dedicated to OH-Fest, it would be ca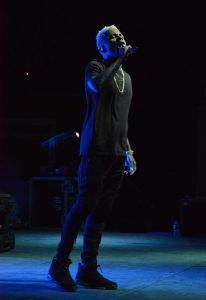 lled "Too Lit" because of the vibrant energy that the crowd gave off.
The rapper and producer spoke about his love for cooking and his favorite dish to prepare, lobster tail and shrimp.
"It's all about patience," he laughed.
The 30-year-old new father touched on the birth of his daughter Aislin Parvaneh Collins, or Ace, and how he manages fatherhood and his career.
"I think the actual parenting side isn't the hard part for me, but it's definitely the time side … Like now I'm doing a show tonight and she got her ears pierced today, so I missed her getting her ears pierced. But I'm lucky enough with the technology today to have videos, pictures, and still be able to FaceTime and be in the moment," said Kid Ink.
Besides having a daughter with his long-time love Asiah Azante, Kid Ink said his biggest accomplishment is ever-changing. He said he is always trying to one-up himself when it comes to reaching his goals.
"It always goes from wanting to have just a single that goes gold, then after it goes gold we need something platinum, when it goes platinum, we need something multiplatinum. After that, I need an award for it. So I think from there, I'm just trying to grow to the next stage of having hit singles to getting awards," he said.
Some of Kid Ink's most famous singles include popular R&B singer, Chris Brown. Their collaborations include "Show Me," "Hotel," and "Main Chick." Kid Ink said that the process of putting together "Show Me" was one of the most fun collaborations because he and Brown were actually in the studio together, which he said can be rare when it comes to creatin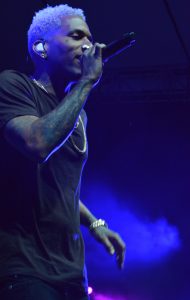 g music with other artists.
As for future collaborations, Kid Ink said, "I think all rappers want to have Jay-Z on a record as a goal."
He also said that he would like to work with some "big voices," perhaps someone like Katy Perry, Ariana Grande, or Adele, who are pop artists with soulful voices.
The laid-back California native credits his ability to be so flexible musically to the cultural diversity in his hometown of Los Angeles.
"It keeps me from being singled out to doing one type of sound or one type of music or having one type of lingo or subject matter. I think sometimes certain people from different cities are kind of boxed in to just their surroundings," said Kid Ink.
He gave the example of artists from down South, specifically Atlanta, being very similar when it comes to their sound. Because of where they are and the culture of the South, he said it is easy to tell when an artist is from the South.
In L.A., Kid Ink said that there are so many different cultures and ethnicities, like "Little Ethiopia and Little Armenia," and when everyone goes to school together, cultures get mixed and ideas are shared.
He also said that the Hispanic community in Los Angeles partially influenced his love for and obsession with tattoos, which he is currently
covered in head-to-toe.
Kid Ink got his first tattoo at 16, at the same time that he was involved in a music program in his community that he said helped keep him off the streets.
"I was going to a program in Watts. It wasn't really a legitimate program that was really supported by the city. This guy had all this music equipment and rented out this place in Watts Towers where we could all go and practice using the music equipment," he said.
This program is where Kid Ink made beats for his friends to rap over. One of the friends he made beats for was rapper Nipsey Hussle. Kid Ink said that the program was successful in helping him and his friends hone their skills as rappers, writers, and producers.
In order to give other kids the same opportunity he had, Kid Ink has invested in a radio studio on Crenshaw Blvd. and 43rd St. in Los Angeles. He hopes that residents of his community will be able to use the facility as a means to produce their own creative projects.