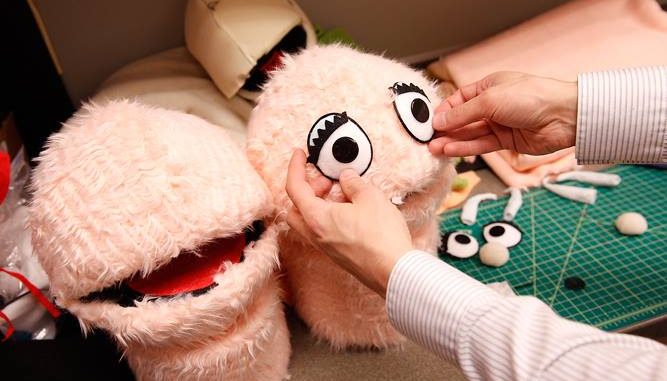 Cheyenne Dorsagno, Copy Editor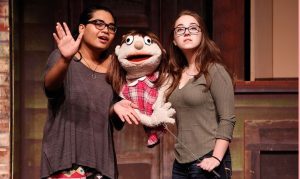 Avenue Q combines the comforting laughs of a puppet show, the catchy fun of a musical, and social discourse worthy of a Broadway audience.
On April 21, director Andrew Kahl presented Avenue Q in the Goodrich theatre. The seats were packed, and the audience clapped and laughed together throughout the show.
At first impression, Avenue Q doesn't seem any different from Sesame Street. Both sets mix human characters with puppet characters that have colorful furry bodies, staring plastic eyes, and wild cartoony voices. This play even uses a large screen to seemingly mimic the television show; there are brief intermissions of animated interactive clips in which children's voices give a quick lesson, read an important word, or answer questions.
A painting of a broken down New York City apartment building stands as the background with stiffly swinging doors and shutters. Even a few garbage cans sit nearby that one would imagine Oscar the Grouch hiding in. Instead, the audience got one moody Trekkie Monster (James Giebler), a red wild haired puppet with a throaty Cookie Monster voice. Trekkie's obsession with porn, however, is one of the many things that indicate that this is actually an adult show.
The play begins with very grownup problems. Princeton (Andy Frank), a puppet who has just graduated from college with a BA in English, has to face the real world, rent a crappy place, and question the worth of his degree. Unsure of his purpose in life, the television screen showed him his finite options representative of American values; it suggested acquiring a job, family, knowledge, or wealth.
Princeton bobbed up and down the stage, propped in front of the actor's entirely black attire, worn as to not distract the audience from Princeton's stage presence. The crew utilized highly contrasted lighting, helping the puppeteers to blend into the dark background as spotlights shone brightly on the stars.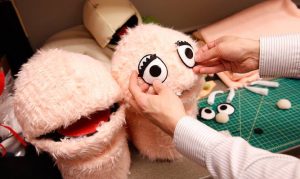 All of the other building attendants started joining in: Kate Monster (Shannon Harding), a kindergarten teaching assistant; Rod (Andy Frank), an openly Republican banker and closeted homosexual; Nicky (James Giebler), Rod's straight roommate and secret love interest; Christmas Eve (Denny Burhan), a Japanese therapist with no clients; Brian (Will Harden), Christmas Eve's fiancé and a wannabe comedian; and Gary Coleman (Akeem Celestine), Different Strokes child star and building superintendent.
Everyone began to sing about their terrible lives, arguing over who had it the worst, and asking, "Is there anyone in this room who it doesn't suck to be?"
This number, "It Sucks to be Me," reveals the role that perception plays in everyone's life.
For example, Nicky tried to explain to Rod in his song "If You Were Gay" that his friends would love and accept him no matter what. However, Rod was too stubborn and debilitated by his own fear to admit that he was gay.
The characters then went back and forth about their racial biases after Princeton asked Kate Monster if she was related to Trekkie Monster. Kate explained that not all monsters are related as she started off the song, "Everyone's a Little Bit Racist." This song did not endorse racism, but instead addressed that everyone has preconceived notions and should acknowledge them; with this newfound reality, people can better understand one another and work on the issue together.
Avenue Q confronted many other issues such as, in Nicky's case, unexpectedly becoming homeless; the fact that people enjoy others' misery; and peer pressure as seen in the Bad Idea Bears (Rachel Parker and James Giebler) egging on Princeton to buy liquor, sleep with women, and hang himself.
Following the thread of perception, Princeton gave Kate a mixtape, and she then analyzed the songs' titles to decipher if he liked her. This scene shows people engaging with love like a game riddled with the obstacles of confusion and miscommunication.
After a wild sex scene between these two puppets, Princeton became afraid of commitment (the video screen emphasizing the "com" in commitment).
So, Princeton left Kate, and then he pursued Lucy the Slut (Shannon Harding). Kate lamented that, "There is a fine, fine line between reality and pretend/ … Between love and a waste of time."
While Kate was hurt to see Princeton with another girl, Christmas Eve explained that she was only upset because she cared about him.
"The more you love someone, the more you want to kill them," said Christmas Eve.
Princeton, realizing his mistake in leaving Kate, also discovered the joy of helping others. He even broke the fourth wall to ask the audience for money so that he could help Kate accomplish her dream of opening a school for monsters.
Once Kate received the last of the donations from Trekkie, all of the characters began discussing the next stage of their lives. They were unsure of what was to come but determined to move forward. Princeton had not yet found his purpose but everyone reassured him in their final song.
"Life may be scary/ … [but] everything in life is only for now," they sang, even referring to transience of Donald Trump.
With the curtains closing, the characters explained that everyone walks through life feeling a little unsatisfied and empty. Life can be stressful and surprising but there will be times of joy, and life will go on.