AJ Senese & Mike Rex, Contributing Writers

Music and weed: a combination so good, they might as well tie the knot and spend the rest of eternity together. Throw some snacks into the mix, and you're one step closer to reaching nirvana. Congratulations, 4/20 is here, and pot smokers of all shapes and sizes are going to be celebrating the same way they do every other day of the year: by smoking pot. If you plan on participating in this reefer ritual, you're going to want some good jams by your side — that's where we come in handy. Unfortunately, we can't help you with the snacks, but luckily, Domino's is only a phone call away. So as Domino's prepares to deliver pizzas to hundreds of stoners, you can prepare yourself to eat said pizza with some ganja and this list of perfect stoner songs.
1) Sublime – "Scarlet Begonias"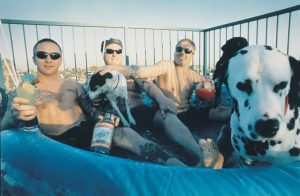 Did you really think this list would start with anything other than Sublime? This Grateful Dead cover will get you hyped to
pack another bowl and get acquainted with your couch cushions.
2) Slightly Stoopid – "2 AM"
This song will make even your sober friend catch a contact high. It's catchy, fun, and sounds best when accompanied by a freshly rolled J.
3) Bob Marley – "Buffalo Soldier"
When you talk weed, you talk Bob Marley. Rastafarianism at its roots, this Marley jam, and basically any Marley jam, is guaranteed to enhance your high.
4) 311 – "Who's Got the Herb"
The name is pretty self-explanatory — they're looking for herb, and you got it. So smoke it up in honor of some of music's most talented stoners.
5) Cypress Hill – "Hits from the Bong"
If you're getting sick of the reggae sound, try bumping some Cypress Hill when it's time for the cypher to commence.
6) Junior Murvin – "Police and Thieves"
This mellow reggae tune makes you want to keep the peace, and a good way to do that would be to twist up another doobie.
7) People Under the Stairs – "Acid Raindrops"
For those who want chill vibes and a catchy hook, this hip-hop track will have you bobbing along even after the high wears of
f.
8) Oogee Wawa – "Spliffs" 
Whether or not you're smoking a spliff, it'd be a wise choice to bump this beachy melody when you fire it up.
9) Sublime – "Smoke Two Joints"
Planned on just smoking one joint? This classic might have you rethinking that decision.
10) Afroman – "Because I Got High"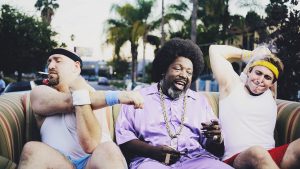 The epitome of stoner songs, this marijuana anthem will get the whole room singing along, probably very poorly. Regardless of your singing capabilities, Afroman is an important part of any 4/20 festivity.