Noah Raspler, Contributing Writer
On Monday, April 11, Republican party front-runner Donald Trump held a campaign rally in Albany, N.Y. at the Times Union Center. More than 15,000 filled the arena.
After news broke that Trump was holding a rally in Albany, supporters and opposers alike jumped to buy their tickets.
When revealing plans to attend, many responded by saying, "You're actually voting for him?"
Doors opened at 4 p.m. with Trump slated to make his grand entrance at 7 p.m. Right as the doors opened, there was a line of several thousand people wrapped around a few city blocks. Throngs of people crowded the streets, some selling hats and shirts with the Trump signature slogan "Make America Great Again." Campaign buttons were being sold as well, with one even saying, "Knock the hell out of ISIS."
Fans rushed to the front of the stage. Billy Joel's "Uptown Girl" and John Mellencamp's "R.O.C.K. in the USA" played over and over again as everyone anxiously waited for Trump's arrival. Supporters were chanting "Build the wall!" and one person screamed "Twenty years of Trump!"
Carl Paladino, Republican businessman who ran against Andrew Cuomo six years ago for governor, warmed the crowd up before Trump came out.
"Are we gonna build a wall?" he shouted. "And who's gonna pay for it?"
Everyone responded with the obvious answer: Mexico. He must have said this about ten times, and each time the crowd responded with a roaring "yes!" followed by "Mexico!"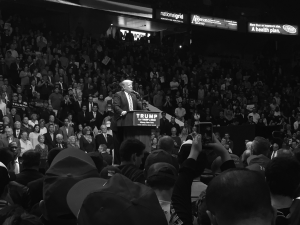 As it slowly approached 7 p.m., the venue was almost at full capacity. Several thousand people had to be turned away. Fans stood for over two hours in a sea of "Make America Great Again" signs, hats, and shirts. Trump finally entered to the song none other than "Y'all Ready For This?" from Space Jam. The crowd cheered and screamed, sending the decibel meter through the roof. It was time for the rally to finally begin.
"We love Albany. We love New York," said Trump in his opening statement. "We really love our country."
Trump hit upon all the familiar things throughout his speech: America never wins anymore, the country is trillions of dollars in debt, Obamacare "is a disaster" that will be repealed and replaced, the $10 billion wall will be paid for by Mexico, the media is "dishonest," and the primary delegate system is "rigged."
An announcer addressed the crowd before Trump appeared and said "not to touch or harm" protestors. However, supporters were shoving protestors and a fight broke out towards the front of the stage. Several times during the speech, protestors interrupted Trump, prompting him to deliver the signature line "Get him outta here!" which elicited loud cheers.
Trump spoke for about an hour. By the end of his speech, hundreds of protestors could be seen lining in street. City cops including several on horseback, state troopers, and sheriffs were outside trying to ensure everyone's safety.
For both Trump supporters and protestors, the experience of a rally is like no other. It was intense, crazy, and fascinating. You can watch Donald Trump on television, but  nothing will prepare you for a Donald Trump rally.