Tracey Cheek, Arts Editor
For a student who came to SUNY Oneonta as a Biology major, Akeem Celestine has taken on a completely different path, and recently attended a conference at the United States Institute for Theatre Technology (USITT) in Salt Lake City, Utah.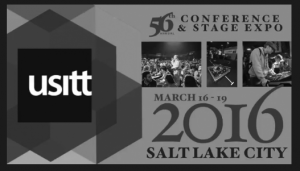 The USITT Conference strives to teach students about diversity, equality, and inclusion in backstage arts. The Department of Theatre chair, Patrice Macaluso, nominated Celestine to go on this trip. This opportunity was perfect for Celestine to learn more about "the breadth and scope of the opportunities available in the professional world of entertainment design and management," said Macaluso.
Celestine, a senior Theatre major from Schenectady, NY, spent five days at USITT, meeting with production managers, attending mock interviews, checking out the expo floor, and taking in the beautiful mountainous scenery.
Each student was paired up with a mentor, and Celestine was paired up with Rafael Jaen — a well-known name in the costuming business. Jaen knows names across the industry, and is even a friend of one of Celestine's idols, Gregg Barnes, who was the costume designer for Legally Blonde and Kinky Boots, to name a couple.
The highlight of the trip for Celestine was in the costume section of the expo. There was a very large period dress, meaning it's representative of a historical period, next to a scaled down version of the same dress. The reason behind the scaled down version was because eight people could not fit in the tiny room with the dress in it during the design process due to its large size.
This was an eye-opening experience, and it helped Celestine learn not only career-building tactics, but a lot about himself as a person.
"I'm more of an introvert than I thought I would be, and I also learned that that's not a bad thing. When I'm in a group of costume designers, then I usually take charge. But if I'm in a group with set designers or stage managers, I stand back and listen. If they need an opinion on a costume, I can speak up," Celestine explained.
With only a few weeks left until graduation, Celestine is getting ready to attend University of Iowa for grad school for Costume Designing Construction. Over the past three years at SUNY Oneonta, he has stage managed, acted, and costume designed for several shows.
In the future he hopes to be a costume designer for a regional theater, but it doesn't stop there, Celestine explained, "Of course I want to be on Broadway. Who doesn't?"