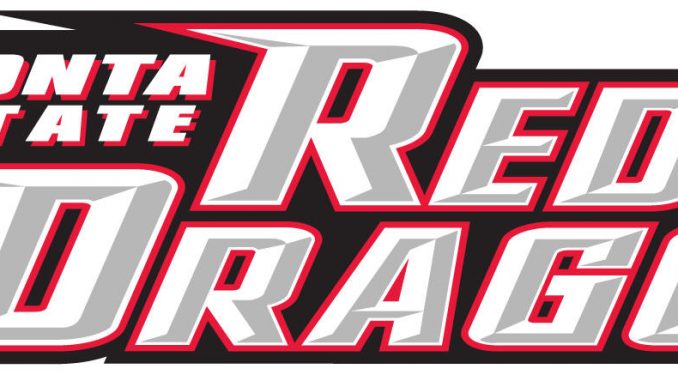 Geoffrey Hassard, Asst. Athletic Director
Did you know that SUNY Oneonta is a member of NCAA Division III and that the Red Dragons are a top-15 athletics program nationally in Division III? In the last five years, Oneonta athletics has celebrated three individual national champions and just this year alone, athletics has celebrated three SUNYAC championships and five All-Americans.
If you didn't know any of this, then NCAA Division III Week is for you!

NCAA Division III Week is an opportunity to see what student athletes are all about while building campus spirit. Throughout the week, students can show their support and spirit by attending athletic and campus events that will highlight the positive aspects and impact that student athletes have on campus.  With the exception of a couple of events, all of the events planned are open and free to everyone.
Senior volleyball player Allyson Coniglione said, "Division III week allows us to showcase all the work we do in the classroom, on the field/court, and in our community. Division III week is a great way to unify and educate our campus on what it really means to be a student athlete in Division III."
Approximately eight percent of SUNY Oneonta students participate in varsity sports. These students compete in the largest division in the NCAA of 450 member institutions and over 190,000 student athletes. The student athletes of Oneonta commit themselves to being the very best in the playing arena, in the classroom, and in the community. In addition to their athletic accolades, the Red Dragons are consistently recognized for their performance academically while completing over 4,000 hours of community service annually.
The true essence of Division III athletics is the full integration of student athletes into the campus culture. During NCAA Division III Week, the athletics department invites all SUNY students to celebrate the excitement and spirit of being a member of Division III.
Coniglione continued, "Being a Division III student athlete has allowed me to continue playing the sport I love at a high level while being able to grow as a leader and still pursue all my goals I have for the future. I love how Division III week allows me to share my commitment with others around the campus and community."
Senior lacrosse player Brandon Hickey added, "Being a Division III athlete is really great. You have the opportunity to be a college athlete, but you're also able to dedicate a lot time to your academics and not just to your sport."
There will be many events to take part in, starting with Division III week  giveaways in the IRC quad on Monday between 10 a.m. and 1 p.m.  In the evening, winter sport athletes — who just came back from competing at the NCAA championships — will be recognized. This will be followed by an Alumni Spotlight Panel discussion including panelists that are currently involved in the criminal justice system as police officers. Both of these events will take place in the skybox located on the third floor of the Alumni Field House.
Tuesday's events will be highlighted by the second annual Nutrition for Performance Expo in the Hunt Union Ballroom from 5 to 8 p.m. The expo is open to all students, faculty, and staff as the NFP Club will present strategies to promote healthy living and how to enhance athletic performance.
On Saturday, student athletes will be involved in the CANstruction event at the Southside Mall in Oneonta. CANstruction is an event where teams build structures out of canned goods and are then judged in four categories. At the end, the canned goods are donated to the local food bank.
Along with the aforementioned events, there are home games scheduled for Tuesday, Friday, and Saturday. The baseball and softball teams will be at home on Tuesday with softball beginning at 3 p.m. on the softball field. The baseball game will begin at 4 p.m. and will be downtown at the historic Damaschke Field.
Baseball will also be at home Friday (3 p.m.) and Saturday (noon) at Damaschke versus rival SUNY Cortland.
The men's and women's lacrosse teams will play a doubleheader on Red Dragon Field on Saturday. The women's game will begin at noon followed by the men's game at 2:30 p.m.
All home contests are free and guests are encouraged to bring a canned food item to the game. The athletics department will be collecting canned food items to distribute to the local food bank.  The first 25 people to show up with a canned food item will receive a prize.
Stay up to date on everything happening in athletics at www.oneontaathletics.com or follow athletics on Twitter (@RedDragonSports) and Instagram (RedDragonSports).
To get involved in the athletics department as a manager of a team or department intern, contact the athletic department located on the third floor of the Alumni Field House or reach out to a specific coach.