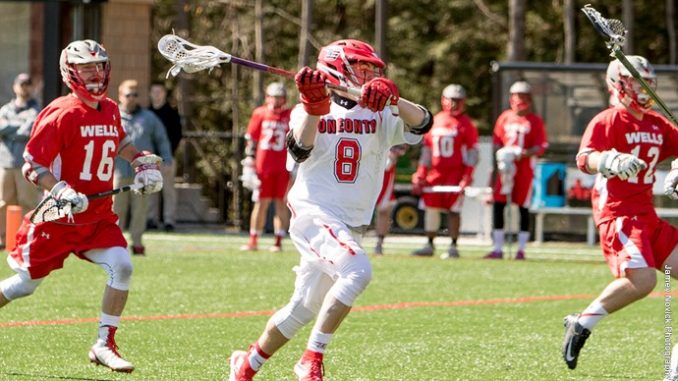 The Red Dragons Men's lacrosse team beat the Wells College Express 32-6 on March 19. The Red Dragons kicked off the game with a great start by scoring two points on their first goal, ending the quarter with a score of 11-0. The Express didn't score their first point until almost four minutes into the second quarter. By half time, the score was 16-2 in favor of the Red Dragons and the Express couldn't make a comeback.
Kate Kimmel, family member of player Danny Kimmel, said that the Red Dragons have worked very hard to get where they are today.
"We've won every faceoff, which has set the tone for the offense to be this successful," said Kimmel.
Although the Red Dragons were unstoppable on the field, it was the supporters in the stands who stole the show.
Following a goal by Christopher Lockwood, sister and Baruch College student Nicole Lockwood cheered, "That's my brother!" which the entire audience heard. Lockwood said that her brother just transferred to SUNY Oneonta from Molloy College and he loves it.
"He's being a freaking beast out there!" said Lockwood.
Dave and Sue Hylka were equally as excited to be at the field supporting their son Ben Hylka. This is Ben's last year at the college, and Sue said that these last few games are bittersweet for her son.
"This is his last year and I know he's sad to leave. [The players] have become like a family to him. They live and breathe [lacrosse]. It's in their bones. It's their passion," Hylka said.
Dave Hylka, who was intensely watching the game and reluctant to speak at first, then chimed in about the players and the game of lacrosse as a whole.
"You have to remember, these guys have been playing since they were very young. Like kindergarten or third grade. The level of play, like D3, has gone up. D3 is like D1 now," said Hylka.
Sue laughed.
"Once you get him going, he can't stop," she said.
He also urged the players to keep practicing and playing. "Keep your stick skills," he said.
Unlike Hylka's parents, freshman Kaitlin Irvin did not come to support one specific player, but rather the whole team.
"I'm supporting the whole team. I don't really know anyone on the team in particular. But I've followed my lacrosse team in high school, and I just really enjoy watching the game," Irvin said.
Also in attendance was Tom Rathbone, who was in charge of overseeing the renovation of the Red Dragon Field where Saturday's game was held. This was the first lacrosse game that has been played on the new field and Rathbone was very excited to see it all come together.
"It's always a thrill to see the students play or study in a facility that we've renovated and I think the athletes like it," Rathbone said.
The Red Dragon's next home game against Ithaca College will be on March 23 at 4 p.m.