Michelle Behr, Staff Writer
Tokyo Japanese Cuisine, located on Main Street, is one of three Japanese restaurants in Oneonta along with Tiger Asian Fusion and Mt. Fuji Japanese Restaurant.  What sets this restaurant apart from its competitors is their super affor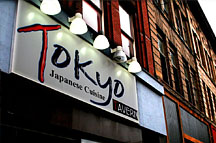 dable sushi and bento boxes, the great service, and the vanilla or green tea ice cream that comes on the house.
As soon as you walk through the doors of Tokyo, you are greeted by a very attentive staff. Waiting as little as five minutes for a table is almost unheard of. If you are with four or more people, you are immediately given complimentary edamame beans for the table.
The inside of the restaurant has an appealing Japanese style, but is a little outdated. There is a sushi bar at the back of the restaurant if you just want to sit and have a quick sushi roll.
Tokyo's dinner menu, boasts full dinners for the price of a lunch special. What could be better than two sushi rolls, a fried roll, miso soup, and a house salad for only $8.98? For college students that want to go out for a nice dinner but don't feel like dropping $20 plus, this is a no-brainer. Assorted bento boxes are also the same price for people who aren't the biggest fans of raw fish.
Along with the food being very reasonably priced, it does not disappoint taste-wise, especially if you are comparing it to the sushi at Mills Market place, which is extremely overpriced and definitely nothing to write about. The miso soup and house salad are what you would expect, the sushi is fresh and delicious, and the fried roll that comes with the dinner is really tasty, especially with the spicy mayo sauce and caviar.  At the end of the meal, each person is either given vanilla or green tea ice cream. The green tea ice cream is very unique and definitely something worth trying.
Even though Tokyo is not the fanciest Japanese restaurant and does not have hibachi tables, it makes up for it with great service and economical dining. Tokyo does not offer a delivery service but you can order your food in advance online or on the phone and then pick up your order at the restaurant. They also have complimentary guava candies at the front desk, which are always a fan favorite.
If you're a college student on a budget, or just need a break from cold cheese pizza, this might be a good option for you. Tokyo combines the elements of convenience, affordability, and deliciousness. For a Japanese restaurant in central New York one could compare it to a reputable Japanese restaurant in New York City.