Adjani Reed, Contributing Writer
This past Super Bowl weekend, Beyoncé took the world by storm with the release of her latest single "Formation". Accompanied by a highly-debated video and controversial performance at Super Bowl 50, "Formation" has caught all eyes and ears throughout the country.
On February 6, Queen Bey released the "Formation" single on Tidal. Reportedly co-written with Swae Lee from Rae Sremmurd and produced by Mike Will Made-It, the single's lyrics touch upon Illuminati rumors, her black Southern roots, and black body positivity. Along with addressing various social issues and accusations, chant-worthy lyrics — including being "a black Bill Gates in the making" and taking significant others to Red Lobster ­— contributed to the infectious nature of the single.
The New Orleans bounce track gives fans vibes similar to Beyoncé's previous singles, "7/11" and "***Flawless" from her fifth album, BEYONCÉ.
Shortly after its release that Saturday, "Formation" went straight to #1 on the Billboard + Twitter Trending 140 chart, and was the most shared and discussed track for ten of the first 13 hours. With its release during the first weekend of Black History Month, the belated birthday of the late Trayvon Martin, and the eve of the late Sandra Bland's birthday, "Formation" has arguably become the black anthem of the year.
Along with the release of the single, the "Formation" video premiered via YouTube and Beyoncé's website. Directed by Melina Matsoukas, much of the video took place in New Orleans with references to Hurricane Katrina and the late YouTube sensation and New Orleans native, Messy Mya. Some of the other symbols and references put forth in "Formation" includes her acknowledgement and appreciation of black hair and features a cameo from the Carter princess, Blue Ivy, with her natural hair.
Beyoncé also hints at the Black Lives Matter movement with police officers putting their hands up in front of a dancing, hooded black youth on the street. With visuals like these, "Formation" has easily become Beyoncé's most controversial video yet. Since its release on the Saturday before the Super Bowl, "Formation" has close to 25 million views on YouTube.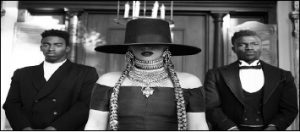 To add onto the "Formation" frenzy, Sunday's halftime show featured Beyoncé again, as a special guest alongside Bruno Mars for Coldplay's performance. Filled with black culture references from the Black Panthers to the late King of Pop, Michael Jackson, Beyoncé's performance added onto the social and cultural awareness and activism prevalent in her most recent effort.
Images like these, however, did not go unnoticed and were criticized by viewers on both sides of the fence. Black Lives Matter co-founder Alicia Garza describes Beyoncé's "Formation" as "multifaceted, complex, full of contradictions, and black as hell."
Though Queen Bey received praise for her courage to reference the Black Lives Matter movement, as well as her overall support for causes affecting black Americans, others were more reluctant to give into the "Formation" concept. New Orleans native, Maris Jones of Black Girl Dangerous, critiques the relationship between the single's visuals and lyrics, as well as Beyoncé's use of New Orleans imagery for her video. Jones argues that Bey's use of Hurricane Katrina references, such as the submerged city, flooded homes, and drowning of the car as well as herself, is inconsiderate and insensitive to the residents deeply and directly affected by the tragedy. Even former mayor of New York City, Rudy Giuliani, inserted his two cents, calling Bey's single "anti-police." Carrying on this mentality are anonymous individuals organizing an Anti-Beyoncé Protest Rally outside of the NFL headquarters building located in New York City.
Though the two former critiques come from activists and members within the black community, other commentaries accurately depict the intolerance of unapologetic black self-love and acceptance within America. The use of Black Panthers in Beyoncé's Super Bowl performance sparked inaccurate comparisons between the revolutionary organization and the Ku Klux Klan. The slang and other Southern terminology in her lyrics leave believers of respectability politics and members outside of the depicted communities confused and still entitled to understand them.
Beyoncé uses all of this to maintain a level of  black pride even in the face of a White-America that dehumanizes and marginalizes black lives and issues (hence the depiction of post-Hurricane Katrina New Orleans). Despite the contradictions and disconnect mentioned earlier, Beyoncé's presence in American pop culture makes her stand for black lives and issues a powerful and thought-provoking one, opening up a much-needed commentary on race relations and what it means to have black pride, which is often shunned within America.