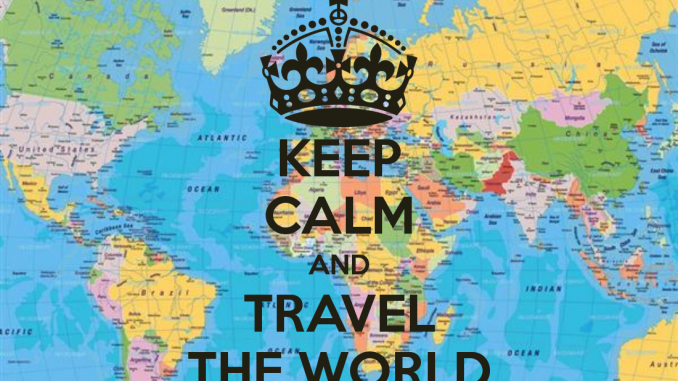 Samuel Afriyie, Contributing Writer
Not every college student will have the luxury to study abroad. However, this does not mean we cannot explore our inner nomads as young adults. Traveling while you are in your 20s can change your perspective on life forever. While study abroad programs are perceived to be safer, one just cannot explore as much than if they traveled on their own. Nothing against my friends who decide to study abroad. Traveling while you are young is a great adventure for the following reasons:
First of all, many of us are pretty confused and uncertain as to what we want to do post graduation. Traveling can be an experience that enlightens you to find a purpose and a passion. Getting out of your cozy house with running water can be an experience that might shape your career path. Traveling within different cities, towns, and staying at different hostels helps you diversify your outlook on life. What better way to do this than while you have less bills, and no spouse or children to take care of? Having a spouse, family, and a full time job will hardly allow you to even go on a vacation. But saving some money and taking on the world can be a great and rewarding way to enjoy your youthful freedom.
While abroad, your encounters mold you into understanding different cultures, religions, and human behaviors. Like the saying, "If you go to Rome you do what the Romans do." Traveling can be a way for young adults to be culturally aware and diversified. Trying new food, fashion, and party scenes can help young adults learn strong interpersonal skills. And the bonus could be an immersion for second language learners. Traveling to destinations where your language of interest is spoken is a great and fast way to learn. While traveling, young adults cultivate great habits of budgeting, self awareness, self defense, and even self actualization.
Money management and time management while traveling is a great skill that could be beneficial in every college student's life. The good and bad experiences while abroad only make you stronger and a better person. Reminiscing on these memories will motivate you to take up new challenges at your job, within your community, and even on your campus. You serve as your own leader while traveling so life becomes easier whenever you are faced with obstacles.
Now, the million-dollar questions: How can I afford to travel? Flights are so expensive, where will I stay while I'm abroad? Where can I eat? Will I be safe?
Two important things that all college students should learn is money management and planning. Traveling abroad is not always expensive when you plan ahead of time and shop better deals on flights and stay at hostels instead of fancy hotels. If you prefer closer destinations like Canada or Mexico and enjoy bus rides, take a road trip with some friends and go on the next spring break of a lifetime!
Another awesome way is to get a basic frequent flyer mile program that rewards you points that can accumulate to help you get your next flight free. Introduced in the 90s, these frequent flyer programs were designed for customers of airlines who travel multiple times throughout the year. The great news is now these programs are open to everyone at $0, all you need to do is go onto the website of your airline of choice or its parent organization (e.g. United Airlines belongs to the Star Alliance Family) and sign up. With this membership, customers are able to accumulate points on any travel purchases they make. These points accumulate and transfer into cash credit that can be used to purchase your next ticket to Cancun, Cape Town, or Dublin.
Before you travel, explore blogs and social media accounts of travelers who do world tours on a budget. Learn their techniques and find out what the reviews are on hostels, restaurants, and safety for the destination of your choice. Also, book with online flight search engines that reward student discounts and compare the lowest prices for you. Now, I know we are all college students who have no money but instead of asking for a regular credit card, get a travel rewards card with a lower interest rate and, in some cases, no annual fees. These are all ways to fulfil our wanderlust dreams and exploit our inner nomads.