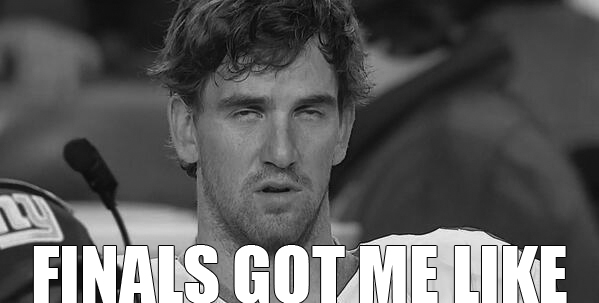 Alex Park, Managing Editor
Finals week is here,  The State Times chimed in on some notable finals performances, all relating to finals week in some way. Take a look:
Isiah Thomas, Detroit Pistons // 1988 NBA Finals, Game 6
The semester grind is grueling and it often feels like it'll never end. Although it took us just four months to get to finals week, it took Isiah Thomas and the Pistons eight years to make it to the NBA Finals. Even entering the Finals with a boatload of confidence, there's just some things you can't prepare for.
In the third quarter, Thomas landed on Michael Cooper's foot, severely spraining his ankle. Thomas limped to the sidelines and it looked like Detroit's championship aspirations were down the drain. However, it took all but 35 seconds for Thomas to come back into the game, putting up the quarter of a lifetime. Already having scored 14 points, Thomas returned to the game, finishing with 25 in the quarter, still an NBA Finals record. He would finish the game with 43 points, eight assists, and six steals. Unfortunately, his performance wasn't enough as the Pistons would eventually lose the game and the series.
However, it was grit, grind, and determination (as well as a couple of trades) that propelled the Detroit Pistons into the NBA Finals the following two years, winning them back-to-back. If this finals week kicks your behind, be like Zeke and come back swinging even harder next time.
Eli Manning, New York Giants // Super Bowl XLII & XLVI
He is the only man to ever defeat Tom Brady in a Super Bowl, and he did it twice. Eli Manning posted two solid performances in both of his Super Bowl appearances, throwing for 255 yards and 296 yards respectively with a total of three touchdowns. However, just like finals week, sometimes you need a couple of miracles to go your way to get through it — and that's exactly what happened to Manning.
David Tyree? Mario Manningham? Two miraculous catches by two Giants receivers in two different Super Bowls. Both of these spectacular catches would set up the game-winning drive for Manning and the Giants, eventually defeating the Patriots.Sometimes, all you need is a miracle.
Don Larsen, New York Yankees // 1956 World Series, Game 5
The best way to perform during finals is to prepare leading up to it… or just show up and be perfect. That's what Don Larsen did in 1956 against the Brooklyn Dodgers. Leading up to the World Series, Larsen had accrued a measly 11-5 record that season, hardly showing flashes of brilliance. However, when it came down to it, he came out and was perfect. Larsen needed just 97 pitches to retire 27 batters in a row, pitching the only perfect game in World Series history.
The performance was crucial as the Yankees would go on to win the series in seven games. This just goes to show you that perfection is possible even during a time of elevated levels of stress and pressure.