Ben Winters,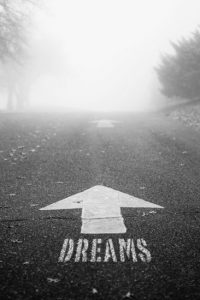 What do you want to be when you grow up? The most innocent, yet most harrowing question that excites us at the age of five and haunts us when a relative asks us on Thanksgiving break. It is the question I try to ask myself each day. It's such a simple question, but it asks so much. What it's really asking is, what is your dream? What is your purpose? I marvel at those who know and are driven to a specific purpose, and those people energize me. However, I'm not exactly sure what that is. I started out my college career with a dream or about ten.
I want to open my own restaurant. The tables bustling, kitchen clatter in the back, sizzling garlic in a wok, the screaming, the yelling. It's truly artistic, tranquil, and beautiful as it all comes together.
I want to be a public interest lawyer. Giving a voice to the voiceless and working 80 hours a week for questionable pay at best feels like the noble and right thing to do.
I want to work in advertising. I want to create little glimpses of art and come up with catchy, smart copy to make myself, businesses, and customers alike happy. I want to use ads to inspire people like the guys at Chiat/Day did for Apple in the 80s, which still inspires me today.
I want to be a talent agent. I want to help people express themselves, giving those people who know what their passion is (and who would rather die than stop doing it) the chance to do exactly that and thrive, while making exciting, confident deals like Tom Cruise in Jerry Maguire.
I want to own the Giants. No, the Brooklyn Nets. I want to open an elementary school. No, maybe a college. The list goes on and is tweaked in my head nearly every moment of every day.
I know that upon graduating, I'm supposed to know the answer to what I want to be when I grow up. I'm supposed to have a concise 'elevator pitch' of my goals, experience, and personality about why I'm the perfect person for any job. To have every skill I could think of endorsed by 20 people each on LinkedIn. This, along with countless theories of how people interact with each other, equations, and facts about Alexander the Great, is what I've learned in college. But I've also learned to question what I see,  to care for others, how to deal with all types of people, and most importantly, I've learned to dream. I believe education on topics not pertinent to our immediate interests is not a waste, but actually allow us to redefine our dreams, reach out, and dare to live.
The single most important thing I think I've learned about dreams, however, is that they shouldn't be regarded simply as such. The very word implies an element of unrealistic aspirations only taken seriously by children. Challenge yourself to redefine it as a genuine goal framed by a mix of raw emotion and experience, and realize that no dream is too big or too small. Keep your mind open, as life's way too short to tell yourself or anyone else that one dream is greater or less than another. There's never just one way to do something, and if people like Dr. Martin Luther King Jr., Gandhi, inventor of the World Wide Web Tim Berners-Lee, or even Steve Jobs thought there was, your life would be a lot different.
For now, the pursuit of my dream(s) is taking the form of keeping my options open. I've applied to several law schools, jobs, and am always open to life advice. I'll always cherish the variety of educational experiences I've had in my relatively short time here, and I'll always strive to let others dream to their full potential and beyond.