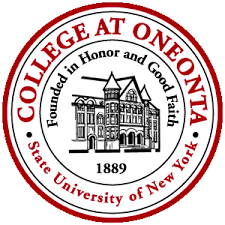 Alex Park, Managing Editor
The emotional state of SUNY Oneonta's campus is slowly returning to normal after former student, Brandon Matthew Negron, posted a threat on the social media platform, Yik Yak, threatening to "shoot up the school," according to a press release by SUNY Oneonta.
The 20-year-old student from New Windsor was charged with making a terroristic threat, a class D felony, and second-degree aggravated harassment.
Yik Yak is a social media app that allows users to post onto an online message board based on geographic location. All posts are anonymous and differentiated by icons. Negron posted the threatening message on Sunday between 6 and 7 p.m., according to the press release.
The threat read, "I'm going shoot up the school. Be prepared Oneonta."
The threat however did not indicate any more specifics about date and time. Several students reported the message to University Police immediately, sparking the investigation that led to an arrest.
After the arrest, police searched his room and found no weapons of any type, according to the release.
A peer described Negron as a normal kid, not a trouble-maker, and someone you can have a conversation.
"I was very surprised to find out it was him," said Marissa Marinaro, a classmate of Negron.
Students of SUNY Oneonta expressed their displeasure on social media sites, calling for the cancellation of class after the online threats. The United States has seen an uptick in online threats and college shootings recently with threats having previously been made towards University of Missouri and University of Chicago and violence taking place in Umpqua Community College in Oregon.
While speculation mounts, the original motive for posting the threat has yet to be revealed.  Following the arrest, Negron was still enrolled in the school. An e-mail sent out to students at 6:34 p.m. on Monday, December 8 stated that Negron was no longer a student at SUNY Oneonta.
Negron could not be reached for a comment.
Even after the arrest, it was still an uneasy time for SUNY Oneonta. Some professors had cancelled class by that point and with plenty of students still feeling uneasy about attending class, many opted to stay at home.
Negron was arraigned at Oneonta City Court on December 8, and was later released on bail. His next court date is set for December 15.